The questions start with last summer's Euro 2012 final and boil down to the same purpose – trying to determine how Italy can beat Spain. There's always the Switzerland and United States model – sit deep, disrupt in midfield as the attack approaches the final third, hope fortune shines on your counterattack – but aside from that kind of low percentage play, is there any way the Azzurri can compete with the reigning World Champions?
In fairness to Cesare Prandelli's side, it's unclear anybody in the world can go toe-to-toe with Vicente del Bosque's armada. Since shaking the monkey off their back in 2008, Spain's swagger's matched their talent, with only two teams able to meaningfully compete with the Spanairds without resorting to the sit-and-wait model. In 2010, Bert van Maarwijk's Dutch side chose a deplorably cynical approach in taking Spain to extra time in South Africa, while Portugal may have legitimately outplayed the Furia Roja in the semifinals of last summer's European Championships.
Along the way, Spain have claimed two major titles while coming to the verge of one of their last unclaimed trophy. So if Italy shouldn't play like the Dutch, can't play like the Portuguese, and probably won't play like the Swiss or Americans, what's left?
Courage, is what Prandelli might say. That was the value he espoused in the lead up to the Brazil match, and although Italy lost that group stage battle 4-2, they showed better than they did in last year's European final. If the Italians can play with the same vigor on Thursday, they 'll live with whatever outcome befalls them.
The truth of this tournament is that outcomes don't matter a lot. Yes, you always want to play your best, but nobody's going to cry over having failed to claim the Confederations Cup. So if Italy can play with heart, stay strong defensively while executing going forward, they'll live with the result. Building from 2010's disappointment, theirs is still a process, once which culminates with next year's World Cup.
Particularly with Mario Balotelli out, Italy may have to look for signs of progress rather than watershed results. That means getting a better performance in goal from Gianluigi Buffon. That means making sure the defense can plug the holes. Can the midfield compete with Spain's dynamos? And is there an attacker that can show Italy need not be so dependent on Mario Balotelli?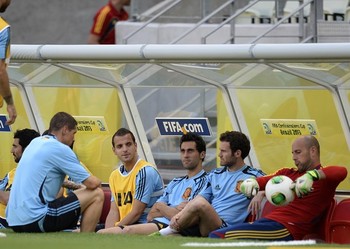 For Spain, however, the results do matter, just as they always do whenever their first team players play. Any slip sends chinks into the armor of invincibility that's be built despite their periodic upsets. If a team like Italy does go toe-to-toe, does compete with the armada, then there's no reason Argentina, Germany, and perhaps Brazil can't do the same.
Four-nil is the benchmark carried over from last year, but Spain doesn't need to replicate that to maintain their perch. Nor do they need Jordi Alba, the left back who scored twice against Nigeria, to keep up his goal-scoring ways in order to build on what they've done. While it would help of Roberto Soldado firmed up his place in the team or Cesc Fabregas justified del Bosque's selection, what Spain really needs is for Andres Iniesta, Xavi Hernandez, and Sergio Busquets to play as they did against Spain. They need Sergio Ramos and Gerard Piqué to continue to be the ultimate insurance policies. And they need Iker Casillas to be the man he was two years ago.
If all that happens, Thursday's game in Fortaleza should be similar to most Spanish national team games: Entralling but predictable – reaffirming the hegemonic state of the current soccer world.