Quite a weekend in MLS, with wild finishes and results that had two prominent manager blowing their stacks!
Let's get into it …
West is best: At least for Round 18. Five matches featured a team from the Eastern Conference vs. a team from the West. The left coast went 3-0-2 in those matches, even though four were played in Eastern Conference grounds. That West-leaning record includes road wins by Real Salt Lake, Vancouver and Colorado. FC Dallas drew in Philadelphia. The only dent, such as it was, in that mark was Chivas USA's draw at home with New England.
Coach blowing his stack, East Coast Version: If you want to see a man under intense pressure, watch the way D.C. United manager Ben Olsen handles himself in the post-game press conference. Olsen was incensed that referee Matthew Foerster adjudged a penalty area foul on young goalkeeper Bill Hamid. Vancouver's resulting spot shot was the only goal in a 1-0 Whitecaps win at RFK Stadium. So, was Olsen right to go all whacko? We'll have more later today … but do consider that his team is in last place and was just shut out for the 11th time in 17 matches. That's a hint on what's to come.
Coach blowing his stack, West Coast Version: Man, on man, anybody want to be a player at LA Galaxy practices this week? They could get nasty, because Bruce Arena was one unhappy two-time defending champion camper. His team went up 2-0 Saturday on California rival San Jose and probably should have put the game in its back pocket with other chances. But …
"I'm absolutely embarrassed at that performance, it's disgraceful." Those were Arena's words not long after the Earthquakes scored the third goal in stoppage time, harkening back to all those 2012 stoppage time comebacks.
The comebacks: The Earthquakes' 3-2 win over L.A. wasn't the only big rally worth talking about. Montreal took leads of 2-1 and 3-2 at home over Colorado, but Oscar Pareja's men dug in with two late goals for a 4-3 win over Montreal.
Dallas was down a man and a down a goal on the road when Blas Perez scored deep into stoppage time
The Rapids' rookie parade: Will the Rookie of the Year race be an all-DSG Park affair? Versatile midfielder Dillon Powers must be in the conversation; he had a goal an assist Saturday as his fine season moves forward. But so should forward Deshorn Brown be in the running; he struck for his fourth goal of 2013.
The week's big off-field news: Before the summer transfers from abroad start trickling in, how about one who is staying around? A darn good one, too. That's Graham Zusi, who signed a new deal with Sporting Kansas City late last week. It's a smart move to tie up a guy who keeps improving, protecting their asset and doing all they can to keep a good U.S. star at home.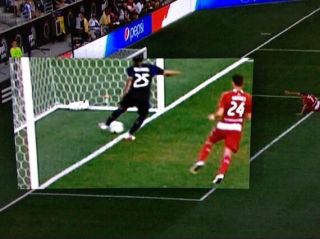 We assume the Houston Dynamo WILL score again this year: But, who knows? They were just shut out for the fourth consecutive match in the 2-0 loss at New York.
The next call for goal-line technology: We get these from time to time. In this case, justice appeared to be done, because FC Dallas was wrongly denied a goal late against Philly … but did squeeze one past the Union defense late to manage the draw anyway. You be the judge. The telling photo is on the right as Sheanon Williams clears Blas Perez's ball from just behind the line.
The big crowds: Red Bull Arena was sold out for a 2-0 win over Houston. It may not sound like anything worth shouting about, but they tend to fill that swell building less than you think. Across the country, 50,028 were at Stanford Stadium to see the Earthquakes rally against the Galaxy. Presumably, they do know that David Beckham isn't playing anymore.
The weekend's top goal: Watch the two superb touches from Sporting Kansas City's Kei Kamara – and consider that he is running at top speed as he collects that original ball. Enjoy.
.