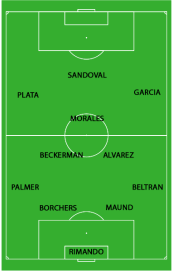 No Major League Soccer team has become as synonymous with their formation as Real Salt Lake, yet Saturday at BMO Field, Jason Kreis temporarily abandoned his 4-3-1-2 (or, 4-4-2, diamond). Against a Toronto side that's playing Ryan Richter and Darren O'Dea at fullbacks, the Real Salt Lake boss took the opportunity to try a 4-3-3 formation. The result was more typical than glamorous, Real Salt Lake grinding out a 1-0 win in Ontario.
Let's leave aside the fact that TFC could have easily tied this late. Let's talk about an experience that only comes along once every couple of years. With Luis Gil just coming back from Turkey and Ned Grabavoy getting a well-deserved reprieve (the under-appreciated midfielder was held out of the starting XI), Kreis deployed a midfield triangle with Kyle Beckerman and Yordany Alvarez at its base, Javier Morales at its top. Joao Plata (left) and Olmes García flanked Devon Sandoval up top.
Against a team that plays as conservatively as Toronto, it's difficult to draw any broad conclusions about how the setup work. RSL survived the day, which is probably all Kreis wanted to do, but with few other teams across Major League Soccer likely to replicate Ryan Nelsen's tactics, it's hard to determine the extent to which a 4-3-3 would otherwise work for RSL.
The one obvious benefit would be getting the likes of Plata and García into the lineup. Along with Sandoval, Alvaro Saborío, and Robbie Findley, the duo help make up a one of the deepest forward corps in Major League Soccer. It doesn't take a managerial genius to know finding room for talented players is a good thing, though with the depth of RSL's midfield (Morales, Gil, Grabavoy, Beckerman), it's unclear playing more 4-3-3 wouldn't require benching a more talented player.
In addition to choosing the right talent, a coach has to maximize the output of the players he picks, and it's unclear keeping a player like Kyle Beckerman as a part of a double pivot would leverage the all-star's virtues. Part of the brilliance of a Beckerman is the fact that you don't need two holders. He can do the job of two men, allowing you to commit another player higher up the field. Why have somebody play beside Kyle Beckerman when you could just have Kyle Beckerman?
If RSL were to use a 4-3-3 more often, it would make more sense to use Grabavoy or Gil as a shuttler and abandon the two holders, particularly with Javi Morales occupying the other midfield role. For the unmatched talent Morales has on the ball, he's a defensive liability, and only against teams like Toronto can you play Morales above two holders without ceding the middle of the park.
Back up top, as Plata's speed was drawing fouls from Richter, you saw an advantage that went beyond merely getting another player on the field. It's one of the luxuries you have when strikers like Saborio and Sandoval are capable of occupying a central defense and a talent like García can occupy a spot wide.
If Kreis can use a formation change to create those kind of matchups, a three-front at least offers a late match option, if not a starting choice against teams whose fullbacks profile like Toronto's. While we didn't get any conclusive evidence of the setup's long-term viability, RSL's depth up top may make another try worthwhile.