Coaches lose their jobs all the time, and most "get it." They may not like it, there may have been mitigating circumstances and there may be blame to share … but at the end of the day they are in a "results business," and they understand being accountable for the bottom line.
When the Ws and the Ls land in unlovely and improper proportions, the manager gets kicked to the curb.
Then again, I'm looking at D.C. United and wondering why the accountability doesn't seem to migrate upward, into the front office, over manager Ben Olsen's head? Because D.C. United has been mostly down in the dumps for a long, long time. Only, the accountability factor doesn't seem to be in effect for GM Dave Kasper, the architect of this failed roster.
This is from Kasper's bio page:  "Dave Kasper joined D.C. United in 2002 and has been instrumental in building a deep, young, and very talented roster at D.C. United that will reap benefits in the long-term."
That sound like the team you see today at RFK Stadium, the one dead last in our weekly rankings, speeding toward a league record for offensive ineptitude?
The team's significant offensive off-season signings were Marcos Sanchez, an aging Carlos Ruiz and Brazilian young designated player Rafael – and all have been pretty dismal failures. They have combined for one goal and no assists. Throw in Rafael Augusto, signed late last year, and that total increases to … no, wait … it doesn't increase one bit. Still, one goal and no assists.
(MORE: Ben Olsen's complaints ring hollow)
That one goal, by the way, was from Rafael, an ostensibly promising signing that worked out so well the club the club released him last week. United didn't help itself here by breathlessly hyping the anonymous 20-year-old as a "major signing."
Speaking of failed attackers around RFK, should we talk one more time about Lionard Pajoy? Or Hamdi Salihi? Or Branko Boskovic? Perhaps former club president Kevin Payne had bigger paw prints on those major boo-boos, but again, the accountability thing.
The back line at RFK is a big bag of average or worse. Canadian international Dejan Jakovic is passable as a second center back, one who can be serviceable when paired with an A-list central defender. But to go into the season with Jakovic and Brandon McDonald as your starting center backs? Someone needs to be accountable for that one.
Everyone loves Bill Hamid's big saves. But he's still young and he still makes mistakes. How many points might have been saved over the last three years with an older, wiser hand in goal, one that allowed Hamid to apprentice and come along slower?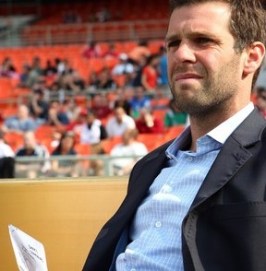 We could go on. Suffice to say, up and down the lineup, there's just is not enough to like. A big run late last year provided some false promise. But that was after Dwayne De Rosario was hurt and the team reshaped into a bunch of grinders who could do the business with 1-0 wins. Once De Rosario got back into the lineup, a year older, that identity was lost.
Isn't that a GM's job to see that? Isn't it Kasper's job to look at the roster and understand how many Ws can realistically be squeezed out of that bad boy? Shouldn't someone be accountable?
Here's what I see happening sooner or later: Olsen (pictured at right) will lose his job. A 2-12-3 record is likely to get worse in about 30 hours when United visits Seattle, and eventually the mark will just be too ugly to stomach.
And if Olsen does lose his job, we'll be left with a huge mystery – because we still won't know if Olsen is a good coach. What a shame that will be.
Unless he was making the major personnel decisions, then Olsen was saddled with a team that never had much of a chance at real success.