Montreal Impact defensive stalwart Alessandro Nesta has told the BBC that will go into coaching at the end of Major League Soccer's season. So … is that a backhanded announcement or retirement?
What the BBC said via Twitter: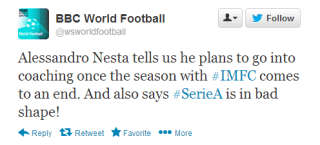 Not that it would surprise anyone. Nesta is 37, and suspicion ran high 14 months ago, as one of the venerable institutions of Italian defensive excellence completed a 13th season at AC Milan, that he would retire at that point. Instead, Nesta announced a move to Montreal.
Here, he has mostly been a joy to watch, a real student of the game who can generally stay out of trouble through shrewd reading of the game. He can be beaten, however, when isolated one-on-one, the pure foot speed not being what it once was.