This isn't a knee jerk reaction to the Colorado Rapids 2-0 win over the New York Red Bulls last night. This notion has been brewing for quite some time.
Following Thursday night's victory at Dick's Sporting Goods Park, the Rapids are sitting comfortably in the Western conference with a big home stand on the way.
But after a mini wobble in June — Colorado lost three-straight but capped the month off by beating Eastern conference leaders Montreal away from home — Oscar Pareja's side are back on track. Big time.
Their solid core of youngsters is doing a spectacular job. Question marks surrounding MLS Rookies Deshorn Brown, Chris Klute and Dillon Powers have all but evaporated as the Rapids have placed trust in youth. With Rookie 'keeper Clint Irwin and US U-20 star Shane O'Neill anchoring the defense, Colorado's core is made up of top young talent that has now proven itself in MLS.
But just how far can this team go?
(More: The team we aren't talking enough about, the Colorado Rapids)
Well two months after Steve Davis highlighted their progress in this blog, see above link, the Rapids are continuing to grow and develop as a unit. But for the most part, injuries and lack of form from their more experienced group of players has been the main reason they haven't kicked on even more in recent weeks.
Edson Buddle has lumbered through games, showing his clinical scoring tough here and there, while Argentine playmaker Martin Rivero has missed plenty of matches. Colorado traded club legend Pablo Mastroeni to LA as their team continues to become younger. People questioned Pareja being brought in as manager when Colorado suffered several growing pains during the latter stages of the 2012 season. But they forget what a wonderful start the Rapids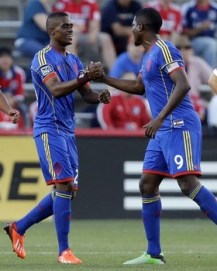 had when the former FC Dallas assistant coach first arrived.
As with every young team, Colorado are slightly inconsistent. But the signs of them stringing together good results are on the horizon. Not many teams will go to Quebec and return with three points this season, but the young Rapids squad did after an offensive explosion.
With the likes of Jaime Castrillon and Tony Cascio returning to full fitness and adding valuable contributions from the bench, this Rapids team is in serious danger of sneaking up on everyone and causing quite a scene during the 2013 MLS playoffs.
A unique mix of young and old exists with Brown learning from the experienced Buddle (both pictured left), Drew Moor helping O'Neill develop into one of the USA's top young defensive talents and Brian Mullan around to help the likes of Klute and Powers. The mix seems just about right.
Pareja's side have also shown that their defensive remodeling is working wonderfully, after recording their sixth clean sheet in 19 games this season following the Independence Day win over New York.
Every season there is one team that is the surprise package of Major League Soccer. In my opinion the longer this season continues, the stronger Colorado will become.
Can they make it three home wins from three? D.C. United and the New England Revolution roll into town for their next two tests. If Colorado takes maximum points from that, expect to hear plenty more people labeling them the "Dark Horses" of MLS.