Busy, busy times in the league. This was easily the most packed round yet, with 16 matches between the games around the July 4 holiday and the regular weekend set.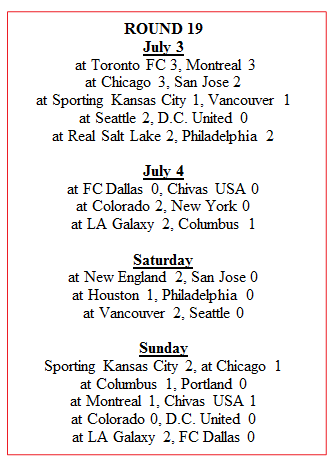 Portland's streak gets busted: The Timbers had not lost a match since March. But a club record unbeaten streak that had reached 15 games went kablooey at Crew Stadium on Sunday, where Columbus' 1-0 win snapped what was also the longest in MLS this year.
Best team performance in a loss: Speaking of events in Ohio, this is why Portland was our top team in last week's rankings: they lost 1-0 on a warm afternoon in Columbus despite playing a man down for almost 80 minutes. Recently signed center back Pa Modou Kah, having perhaps the the worst opening 12 minutes in the history of soccer, picked up two yellow cards and gave up a penalty kick. But the Timbers kept it together and matched the home team, never finding the equalizer but generally looking like the better team, never mind that it was 10 versus 11. Or that Portland was on the road.
All-Star fan voting announced: Major League Soccer announced fan voting for this months All-Star game against Italian club Roma. Nicely done, ye fans. Read why here … along with the list.
Best offensive performances: Conor Casey had a goal and an assist in a big 2-2 draw for Philadelphia against Real Salt Lake, one of the league's hottest teams (although left undermanned due to national team call-ups). Dilly Duka had the same (a goal and an assist) as Chicago started the week with a 3-2 win over San Jose.
Best goal: With big apologies to Camilo's latest beauty of a goal (quite a great free kick strike), we'll go with Saer Sene's lash from Saturday night in New England. Here 'tis:
.
Cascadia triumph: A big black mark was removed from one of the league's top rivalries as the Vancouver Whitecaps finally (finally!) produced a win over Seattle in the Cascadia Cup series. It only took the Whitecaps 13 tries.
Kenny Miller rising: The Whitecaps Designated Player striker, so disappointing last year and not much better over the first couple of months of 2013, had one of his team's goals in Saturday's 2-0 victory at BC Place. That was his fourth goal since May. Not coincidentally, the 'Caps are 5-1-1 in that time. (And it should be mentioned that Camilo's goals and assists have been massive in the big run, too.)
Best defensive performances: Kansas City defender Matt Besler was large and in charge in the middle as his team won at Chicago. Chad Marshall had a good day along Columbus' back line; he can still dominate a game, although consistency is always the issue with Columbus' big center back. But the best of Round 19 may have been Brad Knighton's night in goal for Vancouver, where the Whitecaps' goalkeeper had a club record seven saves.
The best of Knighton's big night:
.
The big controversy: That had to be the Los Angeles Galaxy getting two late PK calls to topple Columbus, 2-1. The second, a little contact with Robbie Keane, was highly dubious. We'll see of the Galaxy remembers this one next time they fell all hard done by – and they tend to feel all hard done by a lot.