Just over halfway through the NWSL season, here's how prominent U.S. national team members have fared during the first year of the new women's domestic league.
… WITH FLYING COLORS
Lauren Cheney Holiday, FC Kansas City – Perhaps surprisingly, Holiday has been the league's best player, sliding into a playmaker's role in which she's rarely been used in before. The product leaves her second in the league in both goals and assists. The former Lauren Cheney missed last week's games while getting married to Philadelphia 76ers point guard Jrue Holiday, hence the name change.
Bottom line: 11 games, eight goals, five assists, and the league's leading MVP candidacy
Sydney Leroux, Boston Breakers – A strong week has Leroux up to a league leading 10 goals, and while some midseason questions gave the impression Leroux's professional debut was becoming a rocky one, her response has led the Breakers back into playoff contention. Talent-wise, she is the full package, and since summer arrived, she's been converting those talents into goals.
Bottom line: 11 games, 10 goals, one assist
Heather O'Reilly, Boston Breakers – As performances start to wane with the busy summer schedule, O'Reilly's renowned intensity remains undeterred. Playing two games in four days last week, O'Reilly's energy was vital to Boston's four-point week. While much of her effort is being still applied down the flanks, O'Reilly's also bolstered Boston's efforts through the middle, making her one of the more valuable players in the league.
Bottom line: 12 games, three goals, five assists
Christie Rampone, Sky Blue FC – The U.S. captain has been the league's best defender, and while her team has leaked goals at times, it's to be expected given the youth that surrounds her. There's no way Sky Blue's at the top of the league without her.
Bottom line: 13 starts, only three fouls committed
Becky Sauerbrunn, FC Kansas City – Has been the leader of one of the league's best defensive pairings, her ability on and off the ball making her Rampone's only rival for league's best defender.
Bottom line: 12 games, one assist, only one foul committed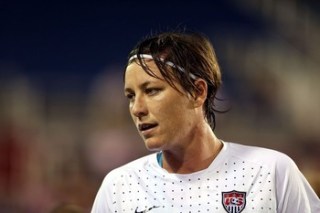 Abby Wambach, Western New York Flash – You may have heard more about when Wambach wasn't playing than what she's done on the field, but between the lines, Wambach has been one of the league's best players, and certainly its best forward.
Bottom line: 11 starts, seven goals, four assists
IF ONLY THEY WERE HERE MORE
Carli Lloyd, Western New York Flash – Has been one of the league's best attacking midfielders, but a shoulder injury's seen her limited to eight games. One of those featured a hat trick, though.
Bottom line: Eight games, seven starts, four goals
Megan Rapinoe, Seattle Reign FC – Has been solid since returning in the middle of June, though her real effects have been on the team's confidence and lineup. Seattle's playing like a team that knows it has the talent to match its ambitions, and with Rapinoe at one wing spot (and some other moves), the Reign now have an XI capable of challenging anybody's.
Bottom line: Four games, three starts, one goal
Hope Solo, Seattle Reign FC – Gave her team an immediate boost when she returned in late May from wrist surgery, then had a memorable mistake that cost her team a game against FC Kansas City. Since she's ranged from great to good, more than you'd get out of most goalkeepers.
Bottom line: Six games, 39 saves, 1.00 GAA, no shutouts
GETTING THE JOB DONE
Nicole Barnhart, FC Kansas City – Until this last week, Barnhart's solid but unspectacular performance still made her one of the league's best keepers. Lately, however, the unspectacular tag has been dropped as Barnhart's made some crucial plays for the Blues.
Bottom line: 13 games, 46 saves, 0.85 GAA, seven shutouts
Rachel Buehler, Portland Thorns FC – Part of the joint-best defense in the league, and while she's still prone to the occasional error, her leadership has been valuable next to rookie center back Kathryn Williamson.
Bottom line: 12 starts, playing every minute she's been available
Ali Krieger, Washington Spirit – Had a strong start to the season and is one of the few fullbacks in the league that's providing a consistent, credible threat going forward. Like her teammates, has shown some signs of disillusionment as her club's struggled.
Bottom line: 12 starts, one goal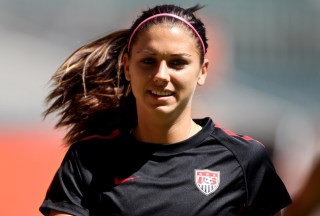 Alex Morgan, Portland Thorns FC – At times, she's struggled, making her broader success look like the product of the U.S. national team's approach. But as the year's gone on, her game's started to round out. Unfortunately, it has yet to yield the kind of numbers that will draw fan attention. Like Krieger, her fortunes (or, misfortunes) are starting to reflect her team's.
Bottom line: 12 starts, five goals, three assists, league leading 51 shots and 29 shots on goal
MIXED BAGS
Ashlyn Harris, Washington Spirit – The popular goalkeeper has been betrayed by an inexperienced and ineffective defense, but she hasn't done herself any favors while trying to organize them. Mix in a couple of soft goals, a few great saves, and you have Harris's uneven season.
Bottom line: 11 starts, 50 saves, 1.73 GAA, no shutouts
Kelley O'Hara, Sky Blue FC – Has struggled as much as any allocated player. Has played left wing and struggled, showing her present and future are probably at left back. Too bad her team has a rookie (Kendall Johnson) that's performing well in that position.
Bottom line: 12 games, 10 starts, three assists
Others: Heather Mitts was allocated to Boston but retired before the season started; Amy Rodriguez announced her pregnancy before the season started and will not play this year; Amy LePeilbet's knee inury has kept her out all season; Jill Loyden's has returned from a broken hand but has failed to make an appearance for Sky Blue; Tobin Heath joins the Portland Thorns this week after playing in Paris until June; Shannon Boxx made two appearances for Chicago before undergoing surgery; Lori Lindsay (Washington) and Keelin Winters (Seattle) are both U.S. allocations but have failed to figure in recent national team camps.