It was another unimpressive week at the top of the NWSL, hinting at some mid-week doldrums for teams preparing for the season's home stretch. Yet some teams are dealing with those doldrums better than others. Despite failing to impress in their game, first place Sky Blue stretched their lead at the top of the league, while a FC Kansas City side missing the league's best player closed their gap on second place Portland.
The team of the week, however, was one in the table's bottom half, though that may not be for long. Coming into Week 13, Boston was six points out of fourth and facing two games in the Pacific Northwest. With a little help from New York's results, Boston now controls their own playoff destiny, the four-point gap between them and their rivals mitigated by their schedule.
Let's walk through Week 13:
Wednesday, July 3
Washington Spirit 1, FC Kansas City 1 – For the second week in a row, FC Kansas City traveled east mid-week, outplayed their opponent, but gave away two points late. This time it was the returning Diana Matheson from the spot equalizing Erika Tymrak's early second half tally to give head coach Mark Parsons a point in his Spirit debut. While the details were encouraging for the Blues – strong performances throughout midfield; Becky Sauerbrunn and Lauren Sesselmann making their case as the league's best center back tandem; Nicole Barnhart being her usual, steady self – a late penalty drawn by Tiffany McCarty made it all for naught.
Implications: For Washington, the point was a morale boost in the wake of Mike Jorden's departure. For Kansas City, though, all the positives can't detract from the fact that points missed in New Jersey and Washington hurt their chances to track down Sky Blue.
NWSL Standings
Pos.
PST
Rank
Team
GP
Pts.
+/-
1
3
Sky Blue
15
30
+10
2
7
Portland
14
26
+5
3
1
Kansas City
15
25
+7
4
2
W. New York
14
23
+9
5
6
Boston
14
19
+1
6
5
Chicago
13
15
-6
7
4
Seattle
14
9
-12
8
8
Washington
13
7
-14
Seattle Reign FC 1, Boston Breakers 1 – Seattle extend their unbeaten run to four, but this could have been more than a one-point result. Some late confusion in front of goalkeeper Hope Solo saw a ball deflect off defender Kaylyn Kyle, hovering unplayed in the six before Sydney Leroux stole an equalizer. Still, the Reign midfield was ferocious, the Jessica Fishlock, Keelin Winters, Kate Deines trio disrupting anything Boston tried to build from Mariah Noguiera forward. For a team that should be judged by progress not points, the draw was still an encouraging one.
Implications: Boston needed to make up ground on the top four, but the first game of their Cascadia road trip only saw them tread water. But given the strength of their opposition, it's hard to deride the Breakers for "only" getting a draw in Seattle.
Thursday, July 4
Chicago Red Stars 1, Western New York Flash 0 – After a game wherethe Flash had more chances but Chicago stole the only goal, Red Stars head coach Rory Dames proclaimed goal scorer Lori Chalupny one of the league's top five players, whether she's in the U.S. national team or not. It was a not-so-subtle allusion to the fact nobody's clear why Chalupny, a one-time mainstay in the national team, has never been allowed back once concussion symptoms cleared, allowing her club career to continue. Thursday's goal will only increase the call for clarity, though given it's a health issue, we may remain in the dark.
Implications: They're valuable points for Chicago, who can persist in their playoff chase with an 'anything can happen approach,' but the Flash half of the result will likely be more important to playoff positioning. Like Kansas City, Western New York needs to maximize points against teams in the bottom half in order to give themselves the best chance for a home playoff game. There's no shame in losing at Chicago, but it's still a missed opportunity.
Saturday, July 6
League Leaders
| Goals | | Assists | |
| --- | --- | --- | --- |
| Sydney Leroux (BOS) | 10 | Lianne Sanderson (BOS) | 7 |
| Lauren Cheney (FCKC) | 8 | Lauren Cheney (FCKC) | 5 |
| Abby Wambach (WNY) | 7 | Leigh Ann Robinson (FCKC) | 5 |
| Sophie Schmidt (SBFC) | 6 | Heather O'Reilly (BOS) | 5 |
| 5 tied at | 5 | 3 tied at | 4 |
Sky Blue FC 1, Washington Spirit 0 – Monica Ocampo, coming off a three-goal week, got a rare start, rewarding Jim Gabarra's decision with the only goal in Sky Blue's ninth win of the season. That Sky Blue couldn't put together a more impressive performance against the league's worst team speaks to the inconsistency they're carried into this game. Though the standings said this was a first versus eighth matchup, the gap wasn't that large between two largely unimpressive sides.
Implications: It's becoming more difficult for Gabarra to justify keeping Ocampo on the bench behind Danesha Adams or Kelley O'Hara, but with his team four points clear on the rest of the league, he gets even more license to do what he wants. At the same time, each of the league's top four needs to worry about preparing themselves for the postseason, which requires getting your team performing to its potential. That the Mexican international left the game with a shoulder injury may give Gabarra a reprieve on a tough decision.
Portland Thorns FC 0, Boston Breakers 2 – Two first half goals from Sydney Leroux vaulted the U.S. international to the top of the league's scoring charts, her performance building on standout days from Heather O'Reilly and Alyssa Naeher for an easy win at JELD-WEN. In the first half, the Portland defense looked shakier than it had the whole season, while the attack didn't get going until the second half, when Christine Sinclair moved into her natural forward's role. Left scoreless again, the Thorns have only 18 goals in 14 games, a rate notably worse than the league's top-four attacks.
Implications: Portland may have hit rock bottom. A two-goal loss at home to a team outside the playoff picture is worst-case scenario-type stuff. The beneficiary of that fall is Boston, whose four-point road trip has revitalized their playoff hopes.
Sunday, July 7
FC Kansas City 0, Western New York 0 – Although Aaran Lines saw standout winger Sam Kerr return to the lineup, the Flash were unable to take advantage of the Lauren Cheney-less Blues, left with one point and no ground gained on the team above them in the standings. For Kansas City, Erika Tymrak continues to impress, the first-year pro making a run for Rookie of the Year since winning a spot in the starting lineup. As opposed to Wednesday, however, Tymrak's efforts never led to a break through.
Implications: Third place, Kansas City maintains their two-point lead on Western New York, although the Flash hold a match in hand. But after a one-point week, Western New York find Boston on their heels, with the rivals set to play each other two more times this season.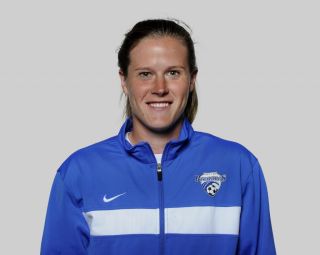 And finally … our Player of the Week
Sydney Leroux claimed three goals for Boston, with Heather O'Reilly assisting on each score, but for a team that has had trouble defending for most of the season, the play of goalkeeper Alyssa Naeher may have been the most important part of Boston's big week. Credited with 12 saves while conceding only one, Naeher's numbers actually understate her contributions, her decisive play coming off her line in each second half helping preserve her team's results.
Head coach Lisa Cole was particularly effusive after Naeher's performance in Portland:
"I thought today was one of [Naeher's] overall best performances I've ever seen, and I've seen Alyssa since she was about 13 — maybe even younger than that. I thought she was outstanding today, not only making saves, but coming for through balls and then being good on her distribution."

"Both Ashley (Phillips) and Alyssa have been good for us, and then they've had one or two little mistakes that they've give up soft goals. What I've said to them is 'you've both overall been good for us,' but we need one of them to be great … Not everyday, but sometimes we need an outstanding performance, and I thought Alyssa gave that to us today."
Defense has been a problem all year for Boston, but the return of the Penn State grad threatens to solidify Cole's biggest weakness. If you're wondering if Boston's latest surge has staying power, look to their talents in attack, the strength of their midfield, and know Naeher may be capable of papering over their holes at the back.