I've been to Sunderland. The people were warm – but the weather wasn't.
The Stadium of Light is a lovely place – but it's across the river from a town that is fairly, well, un-lovely, truth be known. A seaside resort town, it is not.
I was dispatched by American Way Magazine a few years ago to generate a feature-length story on the "relegation battle," a concept most Americans know nothing about. So I went to Sunderland and spent a couple of days there around a match against Wigan, another side that never could quite move beyond swinging distance of the relegation dagger.
(Due to a hotel mix-up and a lack of rooms, I also had the unique experience of spending my last night at a $28 room on Sunderland's gritty seaside. But that's another story.)
(MORE: Altidore signing with Sunderland becomes official)
What I wrote about the city (with a population roughly equal to Anchorage, Alaska, or Lexington, Kentucky) in the article:
Sunderland (population 290,000) sits along England's right flank in the industrial northeast. Here, and in many of this area's midsize cities, the decline of heavy industry has struck like an economic hammer. Reductions in shipbuilding and coal mining have cost the Sunderland region about 30,000 jobs over the last couple decades or so, rendering the economy as grim as a crime scene.

 … The weather can be equally bleak. The average high temperature in December, January, and February is 42 degrees Fahrenheit. The frequent thick fog ensures a wet, cold draping and near-constant heavy-sweater weather."
So I sat in places like the Roker Avenue pub or the Fort and shared beers with the locals. I learned about why they call Sunderland's team the Mackems. (Well, they are only theories, really.) I heard the jokes about the hated team from neighboring Newcastle. I watched the grimaces as proud supporters told tales of "devastation" felt with Sunderland's tumble down into the lower tiers, some from men who showed me the club's badge tattooed over their heart.
I came to better understand how, in places like this, so much of the town's collective self-image is tethered to soccer.
What I also wrote about the place Altidore will soon land:
So Sunderlanders live for their team. What else is there? Sunderland is to English football what Green Bay is to American football: a scrappy little bruiser of a city that manages through sports to keep fast company with the wealthy boys of the neighborhood."
So, this is all about soccer for the U.S. striker. Altidore's first professional stop was in the United States' largest media market.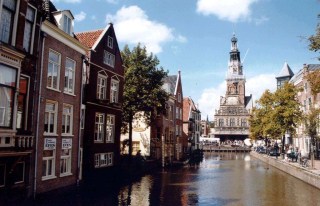 He moved to Spain, attempting to catch playing time in Villarreal along Spain's sunny coast.
Even at Alkmaar, Altidore was spending his time off the field in a charming little Dutch town (pictured at right), just outside of Amsterdam and lined with picturesque canals.
I'm not saying any of those moves were about the scene … just saying that they weren't notoriously lacking in glamour, either. Call it a "bonus."
In moving to Sunderland, the man can scarcely be accused of looking for anything close to glamour or pretty things.  It's about the opportunity for playing time in one of the world's best leagues – and the aesthetics away from training ground clearly don't matter.
Far more fashionable London may be calling one day. But for this day Altidore's mind is clearly wrapped around his professional soccer career.