22 years to the day that they signed their first professional contracts in 1991, six Manchester United stars met up for a reunion in Manchester, with superstar David Beckham leading the way.
Known as 'Fergie's Fledglings" as they all came from the United youth setup and into Sir Alex Ferguson's first team together, David Beckham, brothers Gary and Phil Neville, Ryan Giggs, Nicky Butt and Paul Scholes rolled back the years as they hit the town for a night out in Manchester.
All six will go down as greats of the famous English club, as well as carving out top careers on the international stage.
But it is quite amazing to see all the players getting on so well, 22 years after they first came together.
So here is the rundown on what the class of '92 are up to now, in case you didn't know.
Beckham has just retired this season, obviously you knew that, so did Phil Neville and Paul Scholes who were both offered the role of assisting David Moyes at United. Phil Neville took that offer but Scholes decided he wanted a break, as he famously enjoys his life in the shadows. (In fact I don't think anyone outside of the United locker room has ever heard him talk longer than 30 second since 1991. Seriously.)
MORE: David Beckham announces retirement from soccer
Then there is former United captain Gary Neville, who is carving out a superb career for himself as a soccer pundit for Sky Sports. While Nicky Butt retired a few years back but is United's current reserve team coach. And then there is Ryan Giggs, who began playing in United's first-team before them all and is still planning to do this season, while also taking on a role as player-coach for Moyes.
Just incredible. So will we ever see a youth team like this again? It will take some beating.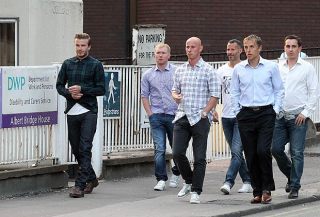 Between these six players seen going out for a casual stroll on the cobbled streets of Manchester (pictured, left) they've amassed 428 international appearances. If you put all their medals together you would have 132 and the list of incredible achievements just goes on.
And the incredible thing is that all of them are still enraptured by the indomitable pull of Manchester United. Despite all that time spent at the club and all they have given, they can't wait to give something back.
The Nevile brothers are heavily involved, Phil more so now with his coaching role. Butt manages the reserve squad, Scholes will no doubt be involved at some point, Giggs is a player-coach and I wouldn't bet against Beckham returning in an ambassadorial role one day.
Whatever happens, 22 years on, seeing these six men grouped together brings memories of United dominance flooding back. Whether you are a Manchester United fan or not, you have to marvel at the incredible things these six fellows achieved in their playing career.
MORE: Manchester United appoint Ryan Giggs as player-coach