Four days in Cascadia, and all of a sudden Sydney Leroux was top of the scoring charts, the apex of what's been a roller coaster year for the U.S. international. Her first professional season has featured hat tricks, a brief benching, controversy in her birth nation, but after a goal in Seattle and two in Portland, it also features an ongoing run as the league's preeminent striker. Not to mention some national attention for some extra-athletic activities.
The 23-year-old was the U.S. women's national team's annual selection to ESPN The Magazine's Body Issue, following in the footsteps of Abby Wambach, Hope Solo, and others. Put aside all the reasonable qualms you have about athletics for nudity's sake and Leroux's selection represents a type of professional breakthrough. It's one thing to achieve fame among the isolated following of women's professional soccer. There, Leroux's akin to a household name. Among a broader audience, however, opportunities like The Body Issue represent a chance to transcend that niche demographic; a pathway to join the likes of Alex Morgan, Solo, Wambach, and Megan Rapinoe as names recognized by general sports fans.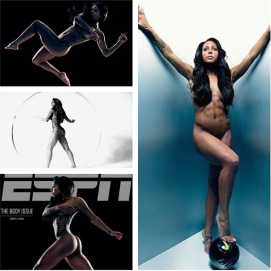 Leroux has an undeniable appeal to that audience, one that tends to skew male, away from women's sports, and contains a population who could be lured to watch women's soccer if they think a Solo or Morgan is playing. Nobody ever lost money betting on guys' affinity for attractive women, but if Leroux gives that large, influential demographic a reason to tune into an NWSL stream, look up where their local team plays, or even talk about a player they were unaware of before, her layout becomes more than another excuse to confound women's athletic achievements with sexuality.
Back in the NWSL world, things are simpler. We can look at what Leroux's done for the Breakers – five goals in three games; matches which have claimed seven points for Boston – and see the influence of the league's hottest player, one that's led her team's surge back into playoff contention.
With the latest NWSL Player of the Week award in her pocket, Leroux's shown how important her finishing is to a resurgent Breakers' squad.
"We need to have performances like tonight from Syd," head coach Lisa Cole said after Boston's 2-0 on Saturday in Portland. "Not just with her finishing but with her work off the ball, getting in and pressuring … When we can get Syd chances and she's putting them away, we're going to be tough to beat."
For Leroux, her performances have been as much about Heather O'Reilly, Lianne Sanderson, and the rest of the teammates that have enabled her run. Normally that kind of attitude's a deflection – athletes reflecting a modesty the public expects them to portray – but for a Boston team that needed results on the west coast to preserve their playoff ambitions, it needs to be about the team.
"I wouldn't be here without my teammates," Leroux said, asked to explain her recent surge. "Heather has assisted on so many of my goals, same with Lianne Sanderson … I'm just trying to do my job, trying to do the best that I can, and hope our team wins."
And with the attention she's drawn this week, both on and off the field, perhaps a few more people will follow Boston's quest to reclaim a spot in the league's top four.
RANKINGS OF POWER
In reverse order. The underlying logic: Tomorrow, neutral site, who do we think is more likely to win:
8. Washington Spirit (last week: 8) – They've made progress since letting Mike Jorden go, but that's progress from the four-goal defeat they suffered in their former coach's last game. In a league where almost everybody can beat anyone, they remain the reason for the 'almost.'
7. Portland Thorns FC (5)- The most discouraging part of their 2-0 home loss to Boston were the early jitters from a defense that couldn't handle Boston's pressure. If the back line goes, Portland have nothing to hang Cindy Parlow Cone's hats on.
6. Boston Breakers (6) – After their strong week, Boston deserve better than this ranking, but the fact the Breakers can't rise above six reflects a league which, all of a sudden, has become very deep.
5. Chicago Red Stars (7) – Perhaps I'm over valuing their win over Western New York given it played out as a rare home team's smash-and-grab, but the Flash went into last week at number one in our rankings. The Red Stars deserve some credit for that.
4. Seattle Reign FC (4) – Seattle were probably the slightly better team in their mid-week draw with Boston, one defensive mistake-type-thing costing them two points. A midfield three of Jessica Fishlock, Keelin Winters, and Kate Deines could quickly become the league's best.
3. Sky Blue FC (3) – Beat Washington this weekend, but failed to impress while doing so. The reason: The squad was utterly depleted, between suspensions, international duty, and injuries. Jim Gabarra had one healthy sub for the Spirit game. The returns of Lisa De Vanna, Sophie Schmidt and Caitlin Foord will help, but Monica Ocampo is out. The Mexican internationa's shoulder injury means she will not start. She's questionable to even play Saturday against Boston, an AC-joint injury keeping her from returning to training.
2. Western New York (1) – Finished the first half of a tough road trip with one point from Chicago and Kansas City. As they turn to Cascadia, their failure to score in either game is a bigger concern than dropping points to two strong teams.
1. FC Kansas City (2) – How do you go a week without winning and jump to the top spot? Oh, I don't know. Maybe do it without the league's best player. Congratulations Lauren Cheney on your nuptials. Your team, however, will be happy to have Mrs. Jrue Holiday back into the squad.
COMING UP THIS WEEK
Wednesday, July 10
Washington Spirit vs. Chicago Red Stars (7:30 p.m. Eastern) – If Chicago are serious playoff contenders, they can't drop points to Washington. It doesn't matter that this is on the road. It doesn't matter that Washington's improving. Chicago need these points. All of them.
Thursday, July 11
Seattle Reign FC vs. Western New York Flash (10:00 p.m. Eastern) – This is a tough matchup for the Flash, with Seattle's midfield capable of cutting off access to Abby Wambach. But with Western New York more than capable of building wide or going over the top, Laura Harvey's midfield's going to have to do more than disrupt the game. They're going to have to control it.
Saturday, July 13
Sky Blue FC vs. Boston Breakers (7:00 p.m. Eastern) – Boston's current surge started with a 3-2 win over Sky Blue at Dilboy, Leroux scoring twice as the Breakers defibrillated their playoff hopes. Sky Blue will have de Vanna, Schmidt, Foord, and Brittany Bock available. They'll be ready.
Sunday, July 14
Chicago Red Stars vs. FC Kansas City (4:00 p.m. Eastern) – Lauren Holiday is back as Kansas City hope their leading scorer will transform strong play from draws to victories. With Chicago coming off a win over Western New York, there's reason for the Red Stars to be confident, but the Blues are capable of closing the doors on the Lori Chalupny show.
Portland Thorns FC vs. Western New York Flash (5:00 p.m. Eastern) – Alex vs. Abby! Sinclair vs. Carli! And Tobin Heath's Portland debut. It's as marquee a matchup as you'll get all year, must see soccer for anybody with even a tangential interest in the women's game.
Seattle Reign FC vs. Washington Spirit (8:30 p.m. Eastern) — So brash! So bold! So … why is FOX Soccer debuting their NWSL coverage with this game, again? I mean, who wants to see Alex Morgan and Abby Wambach in front of possibly 14,000 people at a more east coast accessible time when they can watch the league's seventh and eighth place teams (albeit with Hope Solo and Megan Rapinoe) with a night time start?