Don't worry Chris Wondolowski. You're not the only player to get your name spelled wrong on the back of your jersey.
Heck, it even happened to David Beckham back in the day.
ICYMI, last night the US national team routed Belize 6-1 and Wondolowski scored a first half hat trick to give the USA a 3-1 half time lead.
Except it wasn't Wondo. Well, if you believed the name on the back of his shirt anyway. The US equipment guy is now getting his wrists slapped after printing the name "Wondowloski" on the back of the San Jose Earthquakes strikers shirt.
I sort of understand it. It's a hard name to spell. It wasn't like he misspelled Smith, Jones or Brown.
But the equipment guy redeemed himself, and printed Wondolowski's name correctly on the back of his shirt. The 'Quakes forward switched shirts at half time and all was well. Except he didn't score in the second half, prompting Wondo to joke afterwards that maybe he should wear "Wondowloski" on his shirt all the time.
Don't joke. Do it.
Anyway, all this rekindled some fond memories about jersey typo's in the past. And with a little help from you, the wonderful soccer fans/members of the Twitterati, and Steve Davis, we have found a few of those soccer typo's. Let's see the top four, Wondo aside.
David Beckam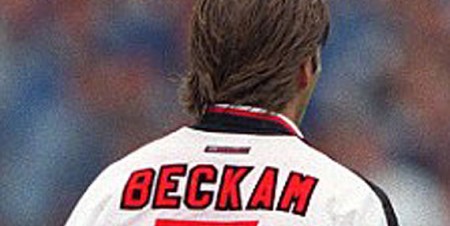 This would never happen today, but back when he was a relative unknown, David "Beckam" lined up for Manchester United in the 1997 Charity Shield final at Wembley.
Roque Satna Cruz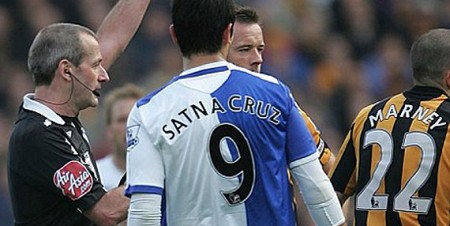 How somebody can spell Santa's name wrong… that is beyond me. Anyway, the ex-Blackburn and Manchester City striker wasn't handing out any gifts to the kit man after this one.
Andesron
I am not sure if kit man at Manchester United has changed over the years, but someone may want to send a dictionary to Old Trafford to help the poor guy out. Brazilian midfielder Anderson was his next target in a game against Everton.
Thomas Zuszczak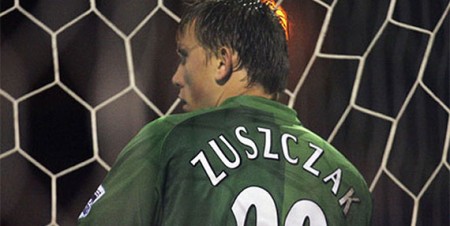 And United's famous misspelling king strikes again, this time Polish goalkeeper Tomasz Kuszczak's name was made a mess off. Where did that extra Z come from? And does the United kit man have a sly drop of Scotch when he is printing the jersey names the night before games?
Any others? Let us know
Again, thank you all for the help, those were just the top five. But if you can remember any other jersey misspelling mishaps, from soccer or any other sport. Feel free to share them with us… we love this wacky stuff!