After Wayne Rooney returned home from Manchester United's preseason tour to Thailand, speculation around his future at Old Trafford has intensified.
Rooney, 27, has made it clear that he wants to leave United and a $38 million move to Chelsea could be an incredibly tempting offer.
Especially after these kinds words from new Blues manager José Mourinho, when asked if he wanted to sign Rooney.
"It's a tricky question because I cannot speak about. But you know me and it's not my kind of character to speak with a bit of hypocrisy and I always say what I think. He is a player I like very much but I can say no more than that. Being fast and direct, I like that, but he's a Manchester United player."
Hint taken, José.
But as Rooney jets back to the UK, away from his Manchester United teammates and David Moyes, you do have to wonder if we'll ever see him wear the famous red jersey again. United's new manager Moyes spoke earlier today about Rooney's injury and still doesn't envisage the England international moving away from Old Trafford.
"It's a blow that we've lost him because he's been training well and looking very good," said Moyes. "But unfortunately he just felt something in his hamstring. He's got a slight grade one injury that will keep him out for about two to three weeks. So I don't foresee any problem with Wayne and he will be fit for the start of the season."
(MORE: Rooney leaves Manchester United tour due to injury)
Moyes then seemed to let off some steam regarding the whole situation, as Rooney's exit from their preseason tour of the Far East has cast further doubt on his United future.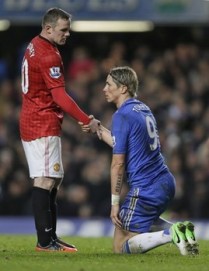 "Unless I was speaking double Dutch, I've said that Wayne Rooney is not for sale. I have answered lots of questions about Wayne and it's getting repetitive. I don't want to talk about it all day."
Luckily, we do.
And Rooney's soccer future could hinge on any potential move this summer. A switch to Chelsea could see his hunger return and trophies stack up under Mourinho. But if it doesn't go well, then everyone will point to Rooney leaving Manchester as the catalyst for his downfall. But if he is forced to stay at United, will his form go rapidly downhill?
For club and country this is a huge year for Rooney, England need him fit and on top form if they have any chance of reaching the World Cup, let alone doing well in Brazil. This saga rolls on and on.
Think about this. On the day Rooney returns to England, thousands of miles away from Manchester United's players and staff, Chelsea manager Mourinho states his admiration for the player. You connect the dots.