You know that thing that hollerin' pundits do around NCAA Tournament selection time, where they get high and mighty and talk about how this team got hosed, and how that one got hosed, too?
You know what most of them will not do? They generally won't acknowledge that it's a zero-sum game, meaning that for every winner there must be a loser. They skillfully dodge identifying which team they would boot from the field in order to squeeze in the unjustly uninvited.
See, it's easy to be the good cop who invites everyone past the velvet rope – much harder to be the meanie that keeps some of the would-be partiers out.
(MORE: Tapping the brakes on the "Chris Wondolowski has Brazil booked" talk)
So we arrive here on the Chris Wondolowski conversation.  Because if Major League Soccer's current Golden Boot holder gobbles up one of the spots, are we compelled to begin wading into the less pleasant end of this swimming hole: which player gets left behind?
History has shown that U.S. managers prefer to bring four forwards to World Cups. For Germany 2006 and South Africa 2010, Landon Donovan and Clint Dempsey were both listed as midfielders.
Here is where the math gets a little fuzzy, because manager Jurgen Klinsmann has used Dempsey almost exclusively as a second striker. The manager may see Dempsey as a forward – even if only nominally so, because all this stuff is more art than hard math, isn't it? – and that would mean one fewer prototype frontrunner will be seated on that golden charter into Brazil.
Further, Donovan is filling a role as a second striker more often. Clearly, he's capable of playing in wider positions, too. And there is a spot that appears to be open on the left at the moment. Still, the number of available forwards starts getting crowded quickly, doesn't it?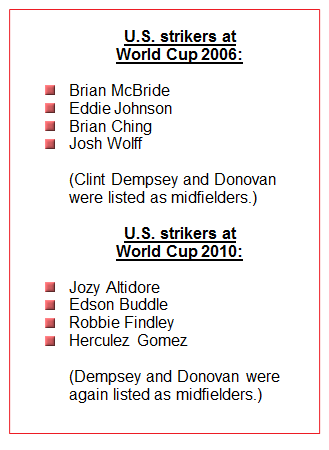 At this point, Jozy Altidore and Herculez Gomez are as close to "locks" as anyone can be 10 months out of official roster submission into FIFA. Clearly, injuries can happen. And players can fall out of form, although these two have done a lot to earn benefit of the doubt. Both would have to fall wildly out of form to be cast aside.
Eddie Johnson has probably done enough at this point, especially as Klinsmann has been bold about using the striker in wide positions. If Dempsey and/or Donovan go as a striker, there's your list. And … please pardon me for doing this … Where's Wondo?
Even if a fourth, natural forward is taken, and if that fellow is named Wondolowski, look who we've just eliminated: Probably Terrence Boyd, a really terrific young talent. Perhaps also Joe Corona, who was usually in the "hole" behind an advanced striker before the Gold Cup.
What about Jack McInerney, who may have something to say about all this in the next 10 months?
So, all this is not just about Wondolowski. There's a bigger picture to consider – and to argue and debate about.