Chelsea youngster Romelu Lukaku and legendary striker Didier Drogba are closer than many people would think.
Ye,s they often draw comparisons due to their playing style. But Lukaku has revealed that Drogba has helped mold his career on a daily basis for quite some time.
The Belgian forward spent the whole of last season on loan at West Bromwich Albion in the EPL, scoring 17 goals in 35 games and showing why he's one of the most promising forwards in European soccer.
But can he translate that onto the biggest stage of all with his parent club Chelsea this season? With more than a little help from Drogba, it seems as though Lukaku is on the right path.
"Didier's a legend. Now it's up to me to do the same as he did," said Lukaku. "And I want to achieve that as fast as possible."
The 20-year-old, who Chelsea bought for $25 million when he was just 18, has big plans for this season and having a role model like Drogba will only aid his development with the Blues.
"He's [Drogba] one of my best friends. He had the role of father figure to me when I was at Chelsea with him. After training we would talk for an hour or so. We have a good relationship and still talk every day. These days I tell him what I'm doing in training and he tells me if it is wrong or right."
(MORE: Report, Mourinho reaches out to Drogba about potential Chelsea return)
So this season is massive for Lukaku. He proved himself in the English Premier League as the teenager's goals and strong hold up play helped West Brom to their best-ever EPL finish of eighth. But now he's returned to Chelsea, is the shadow of Drogba looming large and proving too much to handle?
Let's not forget, Drogba was voted as Chelsea's greatest player by the clubs fans and scored the winning penalty that sealed their first UEFA Champions League title.
Recently it was mooted that Drogba could return to Stamford Bridge. But it seems as though Lukaku will fill his void and the Belgian star went onto say that 35-year-old has been even harder on him recently and has given him even more advice to absorb as the new season approaches.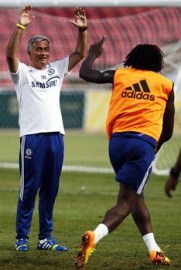 It has been a relatively quite summer at Chelsea since new manager José Mourinho arrived. The huge influx of attacking talents expected hasn't really materialized. Yet.
But does it have to with Lukaku back on board?
Maybe this is why Chelsea aren't pushing too hard to sign the likes Luis Suarez or Edinson Cavani? Why pay ridiculous amounts of money when you have a top young talent who's already capable of hitting double figures in EPL goals. He is strong, quick and can finish from everywhere and should fight with Fernando Torres for the starting role. The comparisons with Drogba are well-founded and uncanny.
However, though Lukaku idolizes Drogba, the young striker is keen to carve his own legacy at Chelsea. "My dad called me Romelu Lukaku so I'm Romelu Lukaku. Yes, we have a similar style of play but I still see there are a few differences. I don't think people will see me as another Didier Drogba but as Romelu Lukaku."
Lukaku or the 'new Drogba?' Either way, Romelu is on the brink of achieving big things at Chelsea. But will Mourinho give him the chance to emulate his hero at Stamford Bridge?
He should.