Just a heads up, David Beckham could be heading back to Major League Soccer.
And a long-awaited franchise in Miami could be coming with him.
This morning reports say Beckham is close to revealing his plans for a new MLS franchise.
The former LA Galaxy star shared his vision with reporters and hinted that an announcement is upcoming.
"It will be in a few months maybe but it's important to get it right," said Beckham. "This is a big decision where I'll have my franchise and how I'm going to do it. It's something I'm excited about."
So we're talking about Miami, right Becks?
In the past few months a huge sense of inevitability has grown over Beckham bringing MLS to MIA. He was seen touring potential venues with Bolivian billionaire Marcelo Claure last month (pictured with Beckham, top right) and even took in a Miami Heat game court-side and met LeBron James and various other dignitaries.
Major League Soccer itself hasn't exactly been too coy about the plans, with many executives and Commissioner Don Garber stating on several occasions that they are "excited about what's going on in the Southeast."
(MORE: MLS expansion in Florida set for 2016?)
But should we be getting this excited about an MLS franchise in a city that had one before but didn't make the most of it?
Maybe. When the Miami Fusion disbanded in 2001 after poor attendances and many other issues, people questioned whether or not South Florida was a good place for an MLS franchise. But having the team tucked away in Ft. Lauderdale was perhaps the biggest issue and was arguably its biggest downfall, yet several other factors led to the Fusion's demise. And those doubts about soccer prospering in Miami haven't drifted away.
However with Beckham's bid and his comments about "getting it right" it's just hard to see this being a failure of any sorts. If the stadium is in the right place, people will support the team and Beckham and Claure will no doubt pump millions into the franchise if it gets off the ground.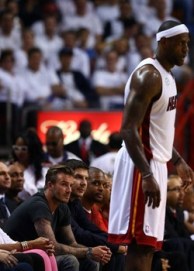 (MORE: MLS Exec, "Multiple teams in Southeast could be very successful")
Perhaps he has other locations earmarked other than Miami? It's hard to think where, but they're certainly plenty of other cities across the US that deserve a shout in the MLS expansion merry-go-round. Atlanta? Minneapolis? St. Louis? San Antonio?
Anyway, Miami still seems like the perfect option and location for Becks. The razzmatazz of the tropical paradise and the rich and the famous will see Beckham and his team slot in superbly.
And with USL Pro franchise Orlando City pushing on with their MLS expansion plans, could Florida soon become a hotbed of soccer and rival regions such as the Pacific Northwest? Hold your horses, not so fast. But it's good to dream. And it seems as though Beckham's plans are much more concrete than a dream as we wait with baited breath to find out where the franchise he's backing will land.
A safe bet is that it'll be within a stones throw of South Beach or one of the other iconic areas of that City. Expect this hype to reach a fever pitch over the coming months. Bring it on.