Kyle Beckerman is a holding midfielder. His job is to screen the defense, acting as a midfielder destroyer, using his wile to clog and dog passing the lanes, channeling his controlled tenacity into useful tackling and 50-50 ball winning. In possession, he is the first outlet for defenders, charged with moving the ball along in some sensible, orderly way to more attack-minded types.
Those are his unchanging orders around the national team.
Only, to listen to a faction of U.S. Soccer supporters, Beckerman should be scoring goals like Jozy Altidore or assisting like vintage Tab Ramos in addition to everything else. Or something close to it, even from a holding midfield position.
ESPN FC's Jeff Carlisle said it best when he called Beckerman a polarizing figure. I'll go a step further:
At the risk of being insulting, I have to wonder if fans who cannot see any value in the Real Salt Lake man just don't like the way he looks (the dreads and all), or perhaps miss some basic understanding of the game? It's OK if you don't like Beckerman as a holding midfielder; I disagree, because I've seen him perform wonderfully for Real Salt Lake in that role for years. But you must recognize that he is a holding midfielder at least, a.k.a. a "defensive midfielder."
I get the feeling that too many supporters cannot or will not acknowledge that teams need balance and roles.
I mean, could a football team function with a bunch of skilled position players and no men to do the blocking? Could a basketball team function without someone to go get rebounds? No. And most fans have a general understanding of that.
Most soccer fans will allow that a side needs defenders, whose role is generally "stop and distribute." But they might fall short in recognizing that defending happens all over the field and in varying individual balances between "attack" and "defend."
(MORE: Previewing tonight's U.S.-Costa Rica Gold Cup contest)
Midfields also need balance, and that's what a guy like Beckerman is all about. Show me a midfield with four attack-minded types and I'll show you an All-Star team designed for "show," or a league team that is going nowhere fast. No, the Real Salt Lake man is not a set-up specialist, although a couple of skillful assists lately have reminded us that Beckerman has that element in his game.
Teams require a certain amount of midfield steel, willing mudders who are happy to win the ball and move it along selflessly. Part and parcel is a willingness to retain the defensive shape, to steadfastly protect against counter attacks rather than impatiently springing forward (as Jermaine Jones, top man on the U.S. holding midfield depth chart, too frequently gets caught doing.)
After all, the reasonable approach to these matches as heavy favorites is to secure a fairly comfortable win; something along the lines of 3-0 or 4-1 does just fine, thank you very much. The silly approach is to go crashing forward in search of 6-0 or 7-0, the kind of romp-and-stomps that may satisfy one small segment of fandom but involves a bit of wholly unnecessary risk.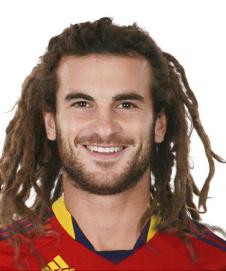 Is it best when screening midfielders can tackle like mad dogs and then pass like Xabi Alonso or Daniele De Rossi? Of course! But Alonso and De Rossi are two of the best in the world at what they do; there just aren't many Alonsos and De Rossis out there.
What I've said before about Beckerman is this: he's probably not the optimum choice for games that will require tons of attacking, where the holding man's job is equal parts screening the defense and moving the ball forward with a little more of playmaker's eye.
But in tough games, in the World Cup qualifiers played in those intimidating parts of the world? Give me a guy like Beckerman for those, even if his role is off the bench. He's fearless and experienced, and that means so much in those testing environments.
And in the Gold Cup elimination matches ahead, give me the leader who knows his role and who isn't afraid to step into the midfield tackle, to make that area a less comfortable place to be.
That's Beckerman – whether or not you are the person who realizes it.