This Wayne Rooney to Chelsea story is really gathering pace.
And now Chelsea manager José Mourinho has piled all the pressure on Manchester United.
Chelsea's initial bid was rejected this morning, but the Blues outspoken boss stated their intention that Rooney is their one and only summer target.
"Chelsea is interested in this player, made a bid and what we did we did officially," Mourinho said.
"Now we have nothing more to say, we want the player, we made the bid and now it is up to Man United."
Speaking after his team defeated Singha All-Stars 1-0 on their preseason tour of Thailand, Mourinho was also asked if Blues had made any bids for other players, "No – and we won't." He was then asked if it's Rooney or bust: "Yes," was his answer.
Wow. All this comes as United's vice-chairman Ed Woodward returned early from the club's preseason tour, to help sort out the situation.
(MORE: Manchester United reject Chelsea's bid for Wayne Rooney)
Mourinho also spoke briefly to confirm that neither David Luiz or Juan Mata were offered as part of the deal that could see 27-year-old Rooney at Stamford Bridge next season.
Earlier this morning reports of a Chelsea bid being rejected by Manchester United circulated through the media, as Rooney's future at United took another ominous step towards the exit door. Chelsea then confirmed they had made a bid for Rooney.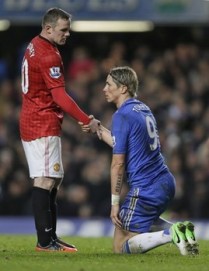 So, take a deep breath. How do we decipher all this? First and foremost, these comments from Mourinho have put the Red Devils and David Moyes in an awkward position.
Everyone knows Rooney wants to leave after he handed in a transfer request — his second in three years — towards the end of last season, and now everyone knows there's a club willing to buy him. Now it comes down to how stubborn United will be. Do they really want to sell one of their best (if not the best) players to one their biggest rivals for the Premier League crown?
I wouldn't have thought so.
But with Rooney unhappy and clearly unwilling to play for the Reds again, what choice have United got?
They've been backed into a corner but now they only thing they can do is lineup a move for the England international to move abroad. Whether that's possible or not remains to be seen.
But something that started off as 'just another transfer rumor' has escalated quicker than anybody expected.
What's the betting that Wayne Rooney is a Chelsea player by the end of the week?