Today the sad news arrived that legendary goalkeeper Bert Trautmann has passed away.
The Manchester City legend died at the age of 89, after one of the most encapsulating careers soccer has ever seen.
Trautmann was a German paratrooper who was captured by British forces and became Prisoner of War.
His intriguing and incredible story starts there.
Trautmann made 545 appearances for City between 1949 and 1964 after winning over a nation with his brilliance and bravery, but the German soldier faced fierce opposition when City first signed him, as over 20,000 people signed a petition against him playing for the English club.
However Trautmann's status as one of the bravest goalkeepers in soccer history still remains today. That's all because of one brutal moment during the 1956 FA Cup final at Wembley.
In the second half, Trautmann dove bravely at the feet of Birmingham City's Peter Murphy but was hit hard by the impact. However the German 'keeper played on for the final 16 minutes of the game… with a broken neck. City won the FA Cup and it's gone down in history as a day that belonged to Trautmann.
On that day he was immortalized into British sporting history.
Trautmann's heroics won over his doubters and despite being German, he claimed in later life to be very proud of his time in the UK. "When people ask me about life, I say my education began when I got to England. I learnt about humanity, tolerance and forgiveness."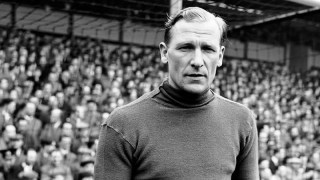 Despite people having to show a lot of forgiveness to Trautmann when he began his soccer career in England, he soon won them over with one virtuoso display after another. After soccer Trautmann became the first German ambassador to the UK following the second World War and was given an OBE for "promoting Anglo-German understanding through football."
After that he travelled the world and coached in countries such as Burma and Pakistan, but England always remained close to his heart and he was a fan of Manchester City and attended games in recent years before his health deteriorated.
Personally, growing up and playing the game in England, you would often hear references to Trautmann's bravery from aging coaches. "What are you crying about a scrapped knee for? There was a goalkeeper who once played with a broken neck, get up."
Something along those lines often cropped up when youngsters feigned injury or over-reacted on the pitch. Trautmann's legend lives on amongst many generations.
But even though his life has now come to an end, the soccer world respects his bravery on the field. Trautmann often frustratedly referred to himself as the 'goalkeeper who broke his neck.' He will never be forgotten in the British Isles and further afield for that.
Yet Trautmann was much more than that, as the incredible story of his life portrays.