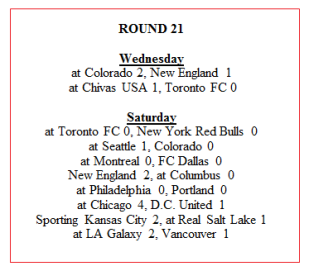 Welcome back Boca – been a long time, man:  Chivas USA snapped its 14-game winless streak with a victory in Southern California against Toronto. Was it mere coincidence that former U.S. captain Carlos Bocanegra and Erick "Cubo" Torres made their debuts for Chivas USA? Hardly. Torres had the game's only goal, in fact.
Vancouver's Camilo scores. Again!: It's Camilo world right now; the rest of us are just trying to keep up the highlights of his goals. Things did not work out well for his Whitecaps, who finished the round of matches late Saturday on the West Coast with a 2-1 loss to the Galaxy. But the Brazilian forward supplied his team's lone strike, breaking away and finishing the confidence you'd expect of the league's leading scorer, not with 13 goals. Camilo has 10 goals in the Whitecap's last 8 games – and holy Cap, that is getting it done!
Lightning in Chester: Lightning delayed the second half of Saturday's Union-Timbers match for nearly an hour outside Philadelphia.  Around the unusual delay, it was a show of goalkeepers in the team's 0-0 draw at PPL Park.
The weekend's "Ooops" moment – and from a highly unlikely source: Generally speaking, Sporting KC goalkeeper Jimmy Nielsen is a rock. He makes the big saves and sweeps up all the little stuff, all while providing good information to the sentinels in defense. But … what a bad moment he had in Utah, completely misjudging a ball that turned into an RSL goal – the kind of mistake we see from young goalkeepers  (like Andrew Weber in Seattle over the weekend) but so rarely from a vet like Nielsen. Here 'tis.:
Real Salt Lake's streak ends: All things considered, Real Salt Lake is in a great place, still well positioned and doing wonderfully in a bit of a rebuilding campaign. Still, this one smarts. Jason Kreis' team was a goal up at home when Chris Wingert drew a second yellow card. A man down, RSL quickly conceded the equalizer and then, near the end, the telling goal to Sporting KC. And just like that, RSL's 11-game unbeaten streak went "poof!"
The week's ref-related controversy: It's too bad all of Real Salt Lake's best players could not be available for Saturday's meeting, a matchup between two of the league's best.
What's really too bad is that U.S. Soccer's referee assigning attachment didn't understand that this match had the potential to be quite physical and tightly contested – which it most certainly was. Referee Matthew Foerster was working his 15th MLS match, and that relative lack of experience could be seen.
Long story short, things got a little out of control, RSL saw a man ejected and things(as noted a couple of paragraphs up) came apart from there for the home team.
Best goal: When we talk about "best goals," the money moment usually arrive in the finish. Sometimes, though, it's about the skillful set-up. Watch young Galaxy striker Gyasi Zardes leave a Vancouver Whitecaps defender for dead (falling down, and then attempting some desperate, lunging gambit to get in Zardes' way just before the far-post finish.) It's his third MLS goal … and this is why some folks are fairly excited about the Galaxy Academy product: Well done, young man.
.
.
Smash … grab … run!: As the final whistle approached, New England would surely have been OK with a 0-0 draw, not having created much in the way of quality chances at Columbus. But center back Jose Goncalves found goal in the 90th minute, and exciting young attacker Diego Fagundez scored his sixth this year as the Revolution sneaked out of Crew  Stadium with a 2-0 victory thanks to a couple of very late hits.
D.C. United records watch: The lastest butt-whuppin' in this sad march to infamy (4-1 Saturday to Chicago) leaves the league's biggest 2013 disappointment with a 2-14-4 record. S the team some picked to rule the Eastern Conference in 2013 remains on pace for second fewest points per game ever in MLS (the 1999 MetroStars hold the mark at 0.47) and for fewest goals over an entire season. Ben Olsen's team has nine so far through 20 matches; the MLS record is 21, set by United during a 30-game season in 2010.
Week's top save: Apologies to Donovan Ricketts for failing to hand over yet another top save to the Portland Timbers' super sprawler, but watch this highly agile stop from New York's Luis Robles, who had to react with ultimate speed to turn away Richard Eckersley's deflected effort:
.