Tucked away in the outskirts of Kansas City, the best team in the National Women's Soccer League is led by a pair of names unfamiliar to the casual soccer fan.
One, Lauren Holiday, is better known as Lauren Cheney – the name under which she claimed two Olympic gold medals prior to her 25th birthday – before marrying NBA all-star Jrue Holiday earlier this month.
The other, Erika Tymrak, is a second round college draft pick who has burst onto the scene in her first few months as a professional.
Together the pair accounts for the most goals (16) of any two players from the same team, and they have Kansas City in first place after Wednesday night's 3-0 thrashing of the Boston Breakers. Tymrak leads all rookies with six goals, and Holiday co-leads the league in goals (10) while leading the NWSL with eight assists.
"With Tymrak and (Holiday), it's a different game," FC Kansas City coach Vlatko Andonovski said. "They are looking for each other – even in practices they are looking for each other. They try to think ahead. They enjoy it. They love the style; they believe in the style and they are the ones encouraging everyone else to maintain the style."
Andonovski has cheekily dubbed Kansas City's style of play as 'Triple A': Attractive, attacking and aggressive.
Kansas City has executed all three of those to perfection in its ascension to the top of the table, heading into Sunday's road match against Sky Blue FC – previous league leaders since May 16 – on an eight-game unbeaten streak that has included as much possession-oriented play as it has highlight reel goals.
Holiday's successes are not surprising. The likely leading candidate for inaugural MVP went from a 20-year-old who was a last-minute addition to the 2008 Olympic gold medal team to one of the best players at the 2011 World Cup. She's a shoe-in midfielder for every United States women's national team training camp.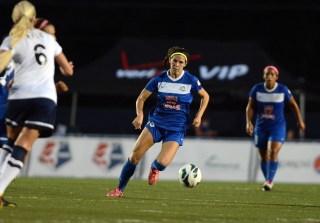 Tymrak, on the other hand, entered the league as the No. 11-overall college draft pick following a good but not necessarily headline-grabbing college career at Florida. Her impact in Kansas City has been immediate.
"The special thing about this league is that I think it is definitely for players like an Erika Tymrak," Holiday said. "Sometimes in college they get overlooked, and in a league like this they are able to really shine.
The connection between Holiday, 25, and the 21-year-old Tymrak isn't forced; it's natural and it comes with ease. Their styles mesh and they "have the same mindset," Tymrak says.
Just look to the first goal in Wednesday's win over Boston: Tymrak was fouled near midfield and before she was even fully back on both feet, Jen Buczkowski tapped the ball to Holiday in order to play quickly – attacking and aggressive, remember – and Holiday found Tymrak, who dribbled, played a give-and-go with Holiday and then played a through ball to Merrit Mathias, whose cross deflected off a Boston defender and into the net (watch the play from the start here).
The entire sequence was like a walk-though – a dance, even, as Tymrak draws from some of the skills she picked up as a child in ballet, figure skating and gymnastics.
"I'm still a student of the game," Tymrak said. "I'm learning new things every practice from my coaches and the players around me, who obviously have a lot more experience than me."
Holiday, who serves as chief role model to Tymrak, says her understudy "has some of the best feet that I have seen a U.S. player have." The rookie's technical ability is the kind that is still an anomaly on the U.S. national team, outside the likes of Holiday, Megan Rapinoe or Tobin Heath. That has more than a few people paying attention to Tymrak.
"I know coach Sermanni has been following her lately and has interest in her," Andonovski said. "If she keeps playing the way that she is playing, I think it is almost a no-brainer."
And for FC Kansas City, the play of the dynamic duo, along with a rock of a defensive unit that includes defensive midfielders Jen Buczkowski and Desiree Scott (who Holiday calls "their saviors") have the Blues on track for a playoff run and arguably in the role of favorites, an unpredictable position for a franchise that nine months ago emerged from the unknown and whose coach is leading his first women's professional team.