After Tottenham Hotspur manager Andre Villas-Boas confirmed earlier today that talks are "ongoing" between the club and Gareth Bale about a new contract, more sensationalist reports have cropped up in Spain.
According to Spanish outlet Marca, Bale is demanding a move to Real Madrid and has hit out at Tottenham's Chairman Daniel Levy over "false promises."
Take this report with a pinch of salt, or a large dose of it, but Marca have repeatedly reported Bale's potential move to Madrid is edging closer.
All week long reports from the Spanish newspaper have been escalating. Believe what you will. So here's what they claim the 24-year-old Welshman had to say to Spurs Chairman Levy, as the club aim to keep him at White Hart Lane:
You made me a promise. You promised me if we didn't qualify for the Champions League and a good offer turned up you'd listen to it. Well that offer has arrived and I want to play for Real Madrid. So keep your word and negotiate. I'm not interested in Manchester United or any other club. I only want to play for Real Madrid.
How have Marca got this information? Who knows. But Bale's agent, Jonathan Barnett, has been very friendly with the Spanish media since the end of last season, and enraged Spurs fans last month by claiming Bale "would listen to an offer from Real Madrid."
So, maybe Bale really does want a move to Real, and can you blame him?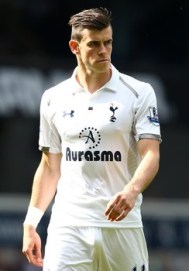 (MORE: Bale agrees to Real Madrid transfer but Spurs say, not so fast)
One thing is for certain, Bale and his agent are a lot closer to the Spanish media than we all previously thought. But we've heard this story time and time again, the rumors, Villas-Boas stating he is not for sale and that a new contract is being negotiated.
But we haven't heard anything from Bale, not one word. And that tells its own story. Actions speak louder than words.
Anyhow, AVB stated this morning that Bale is not participating in Tottenham's preseason tour of the Far East due to a Gluteal muscle issue. Apparently will be sorted out in the next week and Bale will train with the squad in London.
But if you believe reports… this time next week Bale's healed Gluteus maximus could be heading to Madrid.