Controversial AS Roma striker Pablo Osvaldo is close to securing a switch to Premier League side Fulham.
Why the negative vibe you ask? Well, he's got previous.
The only reason Osvaldo is leaving Roma is because he's had an almighty fall out with just about everyone at the club.
Do Fulham and their new mega-rich owner Shadid Khan really want to deal with Osvaldo's antics next season?
Also, what if he doesn't get along with Dimitar Berbatov? That has the potential, from those two alone, to make Fulham's locker room one of the stroppiest and most negative in the Premier League.
But it shouldn't all be doom and gloom.
Behind the veil of a troubled and flamboyant individual lies a sensational soccer player. How often do we see these mercurial talents gone bad in today's game? Mario Balotelli, Joey Barton, Carlos Tevez and a handful of others could easily take the mantle as soccer's bad boys.
Yet Italian international Osvaldo has the potential to be one of the very best. In flashes he has shown his goalscoring potential at Roma and in La Liga at Espanyol. The Argentine born striker has scored 47 goals in his last 99 league games, he is as strong as an ox, has incredible acceleration and can bring others into the game telepathically with his hold up play. On his day, he's sensational.
But when things don't go his way, it's not a pretty sight. He's been sent off nine times in six seasons, has returned late for winter camps, fans have vandalized his car at the training ground after he snatched a crucial penalty kick away from captain Francesco Totti… then missed it. The list goes on and on.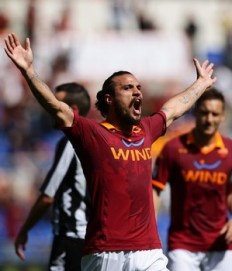 Like I said, he has previous.
But the latest blowout from Osvaldo is why he's on his way out of Roma. The 27-year-old was dropped for Roma's biggest game in years, a Rome Derby in the Coppa Italia final in May against their bitter rivals Lazio.
Following Roma's loss, Osvaldo refused to get his runners-up medal and insulted interim manager Aurelio Andreazzoli before punching an advertisement board used for post-match TV interviews. Andreazzoli didn't hide his feelings towards Osvaldo.
"Causing a scene when the TV cameras are running is nothing new for him," Andreazzoli said. "But then in private he just moans and whines. That's his problem, though, not mine. For a player who represents the national team, he should have better ethics. But again, that's his problem."
After hearing that interview, Osvaldo sent out the following Tweet. "You'd do more good if you admitted to being incompetent… Go celebrate with Lazio."
For that outburst Osvaldo was left out of Italy's Confederations Cup squad. Oh dear. Someone didn't go to the social media training day…
Anyway, at Fulham maybe Martin Jol can keep a handle on Osvaldo and get the best out of his talents. A change of scenery and a new challenge could do the Italian forward the world of good.
But if it all goes pear shaped, expect an in-game scuffle between him and Berbatov. Flip a coin, this could go either way for Fulham.