The initial Premier League schedule was announced on July 11, but without solid dates and kickoff times, it was difficult to get too excited. You knew which teams had tough starts (Manchester United), which teams had it easier (West Ham), but in a double round robin league format, those quirks only matter so much. You didn't know which early kickoffs would force you to set your alarm. You didn't know which late starts would allow you get to the local bar. And you didn't know which Monday games would leave you closing your web browser lest something spoil the match before you got to your DVR.
Now there are no such ambiguities, which means you not only know when you'll need your iPhone to wake you up but also which games will be on "big NBC" (10 in the first three months) and live on NBC Sports Network (57).
All of which plays into this: Our dozen "Must See" games of the season's first three months. Of course, depending on where your allegiances lie, you could see this list as flawed, biased, what have you. Regardless, these match highlights are sure to be near the top of each Premier League Live post-game show:
Saturday, August 17: Swansea City vs. Manchester United (NBC) – The Premier League on NBC debuts with Manchester United's first Alex Ferguson-less match in 26 years. It will also see a Swansea team that's added Wilfried Bony and Jonjo Shelvey try to replicate Everton's success last season, with the Toffees handing United an opening weekend loss.
Monday, August 26: Manchester United vs. Chelsea (NBCSN) – José Mourinho returns to the place where he first made his mark in England, his slide down Old Trafford's sidelines helping to bring his eventual Champions League-winning Porto team to the Premier League's attention. In his second match back with Chelsea, Mourinho gets an early chance to flash the Blues' title credentials.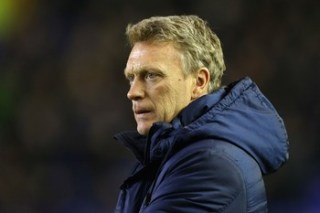 Sunday, September 1: Liverpool vs. Manchester United (NBCSN) – See what I mean about United's tough start? At Swansea, then home to Chelsea, then to Anfield for the season's first North West Derby? David Moyes (right) has been on this side of a rivalry with Liverpool before, having just finished a long tenure at Everton, but given the Reds host Stoke and visit Aston Villa in the season's first two rounds, the new United boss may meet a  particularly hyped Reds team on his return to Liverpool.
Sunday, September 1: Arsenal vs. Tottenham (NBCSN) – Another of the league's most famous derbies completes this Sunday doubleheader, with the league's North London rivals positioning themselves for another fight for fourth (and the league's last Champions League spot). Arsenal could still buy this summer to try to distance themselves from Spurs, but in the second season of André Villas-Boas's tenure at White Hart Lane, Spurs may be ready, should Arsenal up the ante.
Sunday, September 22: Manchester City vs. Manchester United (NBCSN) – They finished one-two in each of the league two seasons, and with Manchester City adding Manuel Pellegrini as well as Jesus Navas, Fernandinho, Stevan Joevtic and Álvaro Negredo, the Sky Blues may have closed last year's gap. Regardless, this is becoming the preeminent intracity derby in world soccer, with a Sunday affair at City of Manchester stadium sure to give both new coaches a taste of what's currently be the league's most-heated rivalry.
Saturday, September 28: Tottenham vs. Chelsea (NBCSN) – In the last three meetings between these London rivals, the teams have combined for 16 goals. The last two at White Hart Lane have each ended with six goals scored, nine of them by Chelsea, a symptom of the Blues' dominance over Spurs. We're now going on three years and seven meetings since Tottenham last upended their rivals, though in that time, only one game's featured a clean sheet. With Gareth Bale juxtaposed against one of the most talented attacks in the league, we're unlikely to see that March 2012, 0-0 replicated this September. Tottenham breakthrough or no, expect goals.
Sunday, October 27: Chelsea vs. Manchester City (NBCSN) – These are the two teams aspiring to dethrone Manchester United, but how they perform against each other may prove as crucial to their title hopes as their fortunes against the Red Devils. Of late, however, Chelsea have failed miserably against the Citizens, taking only one point from City over the last two seasons, failure compounded by a loss in last year's FA Cup semifinals.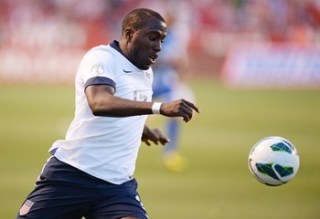 Sunday, October 27: Sunderland vs. Newcastle (NBCSN) – The season's first North East derby also serves as Jozy Alitdore's (right) highest-profile match of fall. By late October, we'll have a good idea of how the U.S. international's settled under Paolo Di Danio, and if that transition proves successful, he'll lead the Black Cats' attack when Fabricio Coloccini and the Magpies visit their fiercest rivals.
Sunday, November 3: Cardiff City vs. Swansea City (NBCSN)  – For the first time, two Welsh teams will compete in the Premier League, with Cardiff City's promotion bringing the South Wales derby to the top flight of English soccer. After a series of close calls in the second division, the newly red-laden Bluebirds finally earned promotion, though with their rivals expected to compete at the edges of the league's Europa League spots, a Cardiff side that will define success by avoiding relegation is a completely fighting different battle than their rivals.
Sunday, November 10: Manchester United vs. Arsenal (NBCSN) – There's still something special about this rivalry, one that served as the league's marquee battle from the late nineties into the early oughts. Every year since the league began play in 1992-93, one of Arsenal or Manchester United have finished in the top two. Today, Arsenal has fallen a step behind, going eight years without a trophy, but for a generation that was brought up on Premier League soccer, United versus Arsenal will always be a must see matchup.
Saturday, November 23: Everton vs. Liverpool (NBCSN) – We have to wait over three months for Liverpool's rivals to meet, but when they rekindle their derby at Goodison Park, the managers may garner much of the focus. New Everton boss Roberto Martinez will be facing Liverpool for the first time as Toffees' manager, and although he faced the Reds many occasions while managing now-relegated Wigan Athletic, center stage in this rivalry will be completely different. That the coach on the opposing bench is Brendan Rodgers, a man who also used Swansea City as a springboard, adds another thin layer of intrigue to this Merseyside Derby.
Monday, November 25: West Brom vs. Aston Villa (NBCSN) – No survey of Premier League rivalries would be complete without nothing what's happening in Birmingham, where West Bromwich Albion is redefining the West Midland's pecking order. When they were promoted two seasons ago, it had been 32 years since the Baggies had finished about their rivals in the league table. Now they've done it two years in a row. After battling relegation, Aston Villa have bigger things to worry about West Brom's success, but that success does highlight how much things have changed in Birmingham.