KANSAS CITY – This year's championship in the Lamar Hunt U.S. Open Cup will be played in Portland or Salt Lake City, as determined by the coin flip conducted Tuesday by U.S. Soccer.
The Portland Timbers and Real Salt Lake meet in one semifinal on Aug. 7, while Chicago and D.C. United meet on the same day for the other finalist berth.
If the Timbers defeat Real Salt Lake in its semifinal match in Utah, the 2013 Open Cup final will be played on Sept. 24 at Jeld-Wen Field in Oregon.
If Salt Lake prevails in the teams' semifinal, the championship will be played on Oct. 1 at Rio Tinto.
Nothing wrong with D.C. United or with Chicago, of course, but either of these Western sites will be fabulous venues for the final. Rio Tinto has found itself as center of domestic soccer's attention several times over the last few years, proving a worthy destination during U.S. national team matches, one MLS All-Star game and as the host for a CONCACAF Champions League final match.
The Timbers haven't been as successful competitively in their short MLS history, although first-year manager Caleb Porter has things moving north in a hurry. And regardless of on-field success, only the silliest among us could possibly argue that the Timbers' Jeld-Wen Field has not quickly established itself as one of the country's premier pro soccer destinations.
The frenzy factor generally reaches 11 there. Which is, of course, why MLS has already planted the 2014 All-Star match at Jeld-Wen.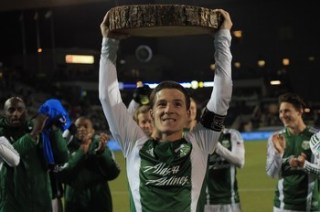 I happened to see Timbers' captain Will Johnson (pictured, right) not long after Tuesday's announcement. He mentioned the big task ahead in getting to the final, having to go through Real Salt Lake in Utah. But the reward is grand, he said.
"It's a massive tournament with a ton of history … I think everybody in North America would love to see the Portland Timbers host a final, because that fan base is fantastic, and they deserve to be able to host such a prestigious game," he said.
"We've got a massive one in Salt Lake [in the semifinal], and now we have even more incentive to go on and win the semifinal game. Because if we can host a championship game at Jeld-Wen, it will be a very special night."