It's been a few weeks since we've had any real news on New York City's search for a new stadium in the Big Apple.
These amazing leaked plans should get plenty of people interested again.
Photos of NYCFC's new proposed home at Pier 40 have been released, with the images truly breathtaking. Can they really pull this stadium deal off? If anyone can the money of the New York Yankees and Manchester City combined should do the trick.
But will this ever get off the ground? See what Steve Davis had to say about this in the past.
If you look back into the history of teams trying to build stadiums in NYC, you'd be quite pessimistic. But this is slightly different. In a city where skyscrapers are popping up almost on a daily basis, why would it be so difficult to obtain construction permits and abide by the extremely strict rules? It just is. The New York Yankees found that out when building their new home and wherever and whenever MLS decide to build this soccer mecca along the banks of the Hudson River, plenty of road blocks will be put in their way.
(MORE: Possible temporary homes for New York City FC)
The big problem would obviously be transport to the stadium. Yes, I know there's a sublime subway system that sweeps millions of New Yorkers across the five boroughs on a daily basis. So surely it can cope with 20-30,000 soccer fans? Maybe. But most games will be in the evenings and at weekends when subway travel is often littered with instructions reminiscent of ancient Egyptian hieroglyphics, signalling where and when construction work will take place. Many people will want to drive to NYC FC games… but where in god's name would they park?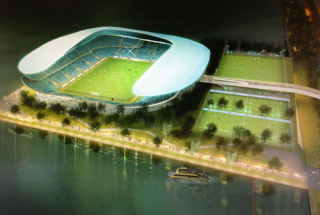 Anyway, parking issues to one side for now. These photos do tell us one thing. NYC FC are going to do this thing big. They're planning to plough plenty of dough into this new stadium, and rightly so. If Manhattan's going to have a soccer-specific stadium, then it should be the best. End of discussion. And this baby in the leaked photos is the real deal.
(MORE: Yankees "Planning on NYC FC playing at Yankee Stadium)
One end open to take in the magnificent backdrop of downtown Manhattan with the Freedom Tower and the Statue of Liberty popping up in the background to say what's up, that's pretty legit. Surely that betters the backdrop of the Delaware River at PPL Park and downtown Toronto at BMO Field, to name just a few grounds around MLS?
So, make sure you check out these photos. Just think about how amazing this would if it came to fruition. Then again, think about how tricky this would be to make a reality.
A couple of other factors to consider from these plans being found. Have the proposed Corona Park stadium plans in Queens been shelved? And what about other alternatives in Manhattan such as Columbia University's football stadium or, of course, a long-term home at Yankee Stadium? Also, what about the soccer fields currently at Pier 40 that won't be there anymore? Surely provision will be made for the thousands of amateur players in NYC who flock to those fields every evening.
Never mind all that. We know fans everywhere love a sneak peek at a new stadium. Just look at that thing. So shiny…