Last night in the first round of the Capital One Cup local rivals Preston and Blackpool battled it out, literally, at Deepdale.
The atmosphere was bubbling throughout the contest and when Preston's Tom Clarke scored a late winner, pandemonium broke loose.
League One side Preston celebrated the cup win against Championship team Blackpool like they'd won the competition. There's nothing wrong with that, that's what it's all about. Passion, glory, rivalry.
But at the final whistle, things got ugly very quickly.
Hundreds of Preston fans streamed onto the pitch to taunt Blackpool's 4,000 traveling supporters congregated at one end of the stadium. Then the police tried to intervene as more of the 17,000 plus fans tried to get onto the field of play.
That's when one unlucky safety steward found himself in the wrong place at the wrong time. A fan he was trying to move off the pitch pushed him and he fell. The steward was then trampled on by a huge police horse and was hospitalized with shoulder and chest injuries.
While all this was going on, players of both Blackpool and Preston were trying desperately to get back to the the tunnel and the locker rooms.
Blackpool's manager, former Liverpool, Manchester United, Inter Milan and England midfielder Paul Ince, was not happy at all.
It's an absolute joke. Who knows what could happen? It's going to take someone to get stabbed or something else to happen before we're going to listen. I wonder if there are enough stewards there. You see enough situations in football where fans are hitting a player. We sit down at these management meetings and talk about these respect campaigns, but what about getting enough stewards to control people? Who are the stewards anyway? Are they Preston fans? If they are they shouldn't be stewards. They just let people run on the pitch. It's not just Preston – it's football in general. We need to knuckle down because you can't have fans running on the pitch. I don't care whether they win, lose or draw.
Ince has got a point, the man is clearly talking sense. In the American sporting arena we often see fans of college basketball rush the court if their team has completed a huge upset win.
But in English soccer this has become a huge problem over the past few years. In a Yorkshire derby last season, a Leeds United fan ran on the pitch and punched Sheffield Wednesday goalkeeper Chris Kirkland in the face. And plenty more instances like this happen in the lower leagues, week in, week out.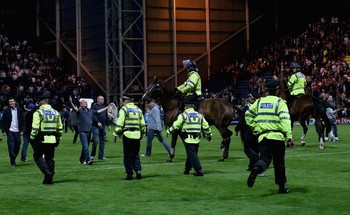 Last weekend fans of beleaguered club Coventry City walked on the pitch and headed to the bench, protesting about the clubs perilous financial situation. The list goes on and on.
Will the soccer authorities do something about it before it's too late? At many grounds fans sit extremely close to all the action, and with no safety fences or real obstacles to get onto the pitch, anyone can do it. This is no an indictment on English society, but there's a definite knife culture within the country. What if one individual takes it upon themselves, like Ince said, to stab or harm a player? There's no protection for that.
I'm not quite sure what the answer to this is. More policing is probably the best method against these kinds of outbreaks. You don't want to take anything away from the experience, passion and excitement at soccer grounds. But the players must be safe.
Fans running onto the pitch, in a jovial mood or not, has to stop. Now.