Each day from now until the beginning of the Premier League season, we will preview two teams from England's top flight. You can view them all here at PST Preview central. Don't forget, the 2013-14 PL season begins on August 17th, and for the first-time ever you can watch every game live on NBC Sports.
An inspired run to fifth place in 2011-12 sparked hope that Newcastle, the North East's sleeping giant, could finally fulfill latent hopes the Toon would become a consistent competitor. Instead, 2012-13 served as a reminder of the harsh realities of the Premier League, with a down season from a talented squad fomenting relegation doubts. As Newcastle continues to mine talent from France's Ligue 1, making St. James Park a refuge for those who can't attract Paris Saint-Germain or Monaco's attention, questions linger as to whether their approach can do more than keep them up.
Transfers In: F Loic Remy (loan, Queens Park Rangers)

Transfer Out:  D Danny Simpson (Queens Park Rangers); D/M James Perch (Wigan Athletic)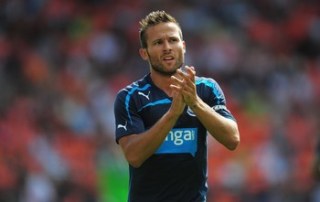 Key Player: Midfielder Yoann Cabaye (pictured) arrived from Lille in the summer of 2011, going on to become one of the Premier League's biggest surprises. For anybody who'd watched Ligue 1 the previous season, Cabaye's assimilation into the Magpies' scheme was no surprise. He was one of the best players in France, a player who'd forged his way into the French national team, so it made sense that he'd have an impact in England.
Though his goal totals went up in his second Premier League campaign, Cabaye's influence waned, if only slightly, Yes, Yoann scored once every 4.5 games in 2012-13 (compared to once every 8.5 games in 2011-12), but his assists dropped dramatically, from nine to two. If that didn't reflect a drop in influence, those numbers wouldn't mean anything, but between fitness and an overall dip in form, Cabaye was less effective last season than he was in his Magpies' debut.
If Cabaye proves the player he was between from summer 2010 to fall 2012 — when he led surges from Lille and Newcastle — the Toon's all good. If not? Place your bets on Alan Pardew in the Premier League sack race.
Manager:  How he's still here, I don't know. Alan Pardew survived last year's improbable relegation battle to maintain his spot on the Newcastle sidelines, yet with a roster that's seen relatively little change since May, there's reason to ask why fans should expect anything different from a 16th place finish.
The personnel says Newcastle should do more, but can Pardew steer them there? Can he put together the defensive Newcastle lacked last season?
Outlook:  Uncertain. There is a huge range of possibilities for United. I don't know how, but last year they managed to finish in 16th place with the league's 17th-best goal difference. The year before? Fifth!
If the talent performs up to their capabilities, the Magpies will be in the league's top half. Else, they"ll be competing in the Premier League's lower third.
MORE: Read all the Premier League previews for each team here