Each day from now until the beginning of the Premier League season, we will preview two teams from England's top flight. You can view them all here at PST Preview central. Don't forget, the 2013-14 PL season begins on August 17th, and for the first-time ever you can watch every game live on NBC Sports.
Fulham rose from the lowest tier of the English game, making the journey from bottom to top in just five years and reaching the Premier League in 2001. The ascent was largely thanks to the support of Egyptian billionaire and club legend Mohamed Al Fayed. Al Fayed just this summer has cashed out, selling his debt-free club to Jacksonville Jaguars owner Shahid Khan. Fulham reached the Europa League final in 2010, losing in heartbreaking 2-1 fashion in extra time to Atletico Madrid as they were in search of their first major trophy. It's been a bit downhill since then for the club. American entrepreneur Khan will now lead the club into battle for the first time this season, looking to return to the table's top half following last year's edgy 12th place finish that saw a late-season slump almost slide the club into a tight battle for relegation.
Transfers in: GK Maarten Stekelenburg (AS Roma, Italy), D Sascha Riether (FC Koln, Germany – loan made permanent), D Fernando Amorebieta (Athletic Bilbao, Spain), M Derek Boateng (Dnipro Dnipropetrovsk, Ukraine), M Adel Taarabt (Queens Park Rangers, England – loan)
Transfers out: GK Mark Schwarzer (Chelsea, England), D Chris Baird (free agent), M Simon Davies (free agent), F Mladen Petric (free agent)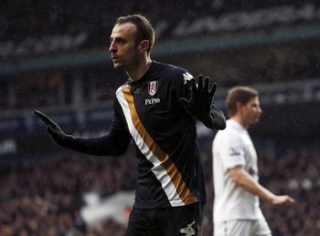 Key Player: With the Fulham squad in a bit of a state of flux, and hardly a soul left from the 2010 Europa League run, their key addition last summer up front remains vastly important. Management convinced Manchester United cast away Dimitar Berbatov (pictured) to join the ranks, and he promptly fired 15 Premier League goals.
A former Golden Boot winner at Old Trafford, Berbatov is a quiet fellow off the pitch, avoiding the media spotlight whenever physically possible, although you wouldn't know it by his emotions on the field. He's developed a fiery on-field relationship with Bryan Ruiz and young winger Alex Kacaniklic, the latter of whom Berbatov has taken under his wing and is often seen forcibly instructing during matches.
Usually clad in long sleeves and the occasional gloves, Berbatov caught the attention of the Premier League last season when, during a Fulham-wide goal drought, Berbatov scored and promptly ripped off his shirt to reveal an undershirt with the message "Keep Calm and Pass Me The Ball." Such a mantra is a fantastically accurate description of the forward's playing style, often wowing crowds with his on-the-ball skills of control and placement, but sulking if he doesn't receive enough touches.
Now 32 and in the final season of his 2-year contract, it remains to be seen what will happen to Berbatov after this season, and it certainly will be a key talking point throughout the year. For the time being, however, he without a doubt holds the key to the Premier League's top 10 for Fulham.
Manager: Dutchman Martin Jol will be entering his third year in charge of the London club. While fan opinion on him remains mixed, there can be no doubt that Jol has brought both shrewdness and ambition in the transfer market.
Aside from Berbatov, Jol isn't afraid to splash the cash, like he did on Deadline Day for Costa Rican attacking midfielder Ruiz in his first summer in charge. He has also found gems in the depths of the market, such as last season's loan for right-back Sascha Riether made permanent this summer for pennies on the dollar.
Jol is a genuine manager, often forming a good relationship with both the fans and players such as he did during his time at Tottenham Hotspur where he was sacked much to the dismay of many fans at White Hart Lane. It remains the same while he strolls the touchline at Craven Cottage, but improvement will be necessary or Shahid Khan himself has stated he will hold those in the skill positions responsible.
Outlook: Following the 2007/08 season which saw the Whites escape relegation on goal differential (known to fans as the Great Escape which required defeats of Manchester City and Portsmouth in the final two weeks to stay up) Fulham has found success previously unknown to the club. Along with the Europa League run in 2010, they've also finished in the top half of the league three of the last five years, something which they'll be aiming for again this season.
Having brought in a few key players who will crack the starting lineup, Jol has yet to finish filling out a thin and porous squad, and without a few more additions it's hard to see a top 10 finish, especially with a few well-placed injuries. However, rumors of the addition of Darren Bent swirl around the banks of the Thames, and the former England striker alongside Dimitar Berbatov could see the side make its way back to the coveted top half.