At the age of 31, Southampton striker Rickie Lambert wouldn't have been waiting anxiously for a call from England manager Roy Hodgson yesterday.
Those days are long gone.
Instead, yesterday morning Lambert was by the side of his wife as she gave birth to their new daughter, Bella, at approximately 4:30am on Thursday. Marvelous news.
And as Lambert reveled in the birth of his third child, his phone rang. That call he'd always been hoping for finally came.
Hodgson had given the journeyman striker a day he'll never forget. On the same day he became a father he was called up to the England squad, for the friendly game at Wembley on Wednesday versus 'auld enemies' Scotland, for this first time in his career.
As days go, August 8, 2013 was a pretty good one for Lambert.
This is a player who has made it to the top the hard way. Released by boyhood club Liverpool as a teenager, and then again by Blackpool, Lambert was resigned to working in a Beetroot factory on the side as he kept his dream of being a professional soccer player alive. In 2001 he signed for Macclesfield Town, in England's fourth, and last, tier of professional soccer. The dramatic rise of Lambert was about to begin.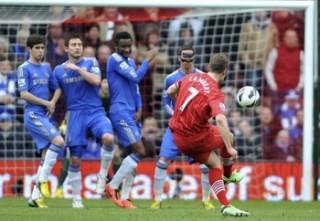 In his initial years as a player, Lambert was a midfielder with an eye for a pass and who scored the occasional sublime goal. But then following moves to Stockport County, Rochdale and Bristol Rovers he finally morphed into the talismanic forward he is today. The spell at Bristol Rovers saw him turn into a goalscoring machine and when Southampton were relegated to League One in 2007, they spent $1.5 million to buy Lambert as the first building block in a five-year plan to reach the Premier League.
His 103 goals in 196 games has taken the Saints to the promise land in just three years, and in his first-ever season in the Premier League in 2012-13, he finished as the joint-top English goalscorer with 15 goals. Not bad for a Beetroot picker.
So at the age of 30, Lambert had never played in England's top league. Heck, at the age of 29 he had never played in England's second tier… but any doubts people had over his quality in the Championship soon vanished as he scored 31 goals as the divisions top scorer, leading the Saints to two successive promotions back to the Premier League. He has won the golden boot as the top scorer in three of England's four divisions, can he be the PL's leading marksman this season? The boost he will gain from this international recognition will do him no harm at all.
His form in England's top-fight last season was what convinced Hodgson to give Lambert a shot. And depending on what happens he could go to Brazil. Why should age be an issue if Lambert can score goals in the PL and for England? Manager Hodgson has faith in him.
It would be better if he was 24 and not 32 [By World Cup 2014], but on the other hand our intention is to do well first on Wednesday and then in these autumn games where we are trying to qualify for Brazil. If Rickie Lambert can help us do that and maybe when we get there, do well in the tournament, then I will quite happily turn a blind eye to the fact that he is 32 at that time because it's not age that plays football, it's human beings.

He's a very good technician, good in the air, his understanding of the game is good and he's scored goals. What more criteria do you want when you are selecting a forward? For Rickie Lambert, it's a recognition of everything the man has achieved in football. I think that on merit, if we're to pick someone who last year really stood out as a forward, scoring his goals and playing an important part in a very good season for Southampton, it was Rickie Lambert.
After all the trials and tribulations of his humble beginnings in soccer, Lambert is the undisputed leading man for Southampton. A fans favorite who is deemed worthy of wearing the famous No. 7 shirt previously worn by Matthew Le Tissier. Lambert is uncannily similar to Le Tissier, scoring stunning free-kicks and also netting 31 out of 31 penalty kicks for the Saints. (Le Tiss scored 47 from 48 in his career and is widely regarded as the best in the land)
But legendary comparisons aside, Lambert now has the chance to write himself into English folklore.
When England line up against Scotland next week, Wayne Rooney and Jermain Defoe may be missing though injury. Lambert may get the nod to start in front of almost 90,000 at the home of soccer, the game against Scotland will mark the first-time the nations have met since 1999. Previously Lambert stated his hero is England and Liverpool captain Steven Gerrard… now they could be lining up alongside each other for England.
Expect the 31-year-old to embrace the challenge of representing his nation head on. Not matter what happens when Lambert pulls on the Three Lions jersey, the man from Kirkby, Liverpool has fulfilled a life-long dream. And has definitely earned it more than most. The cold, wet and windy afternoons playing in front of desolate stadiums in England's fourth-tier are long gone.
Now it's Wembley Stadium. Versus old enemies Scotland. Rickie Lambert. England international.
"It's the dream I've been fighting for and hoping for all my life," Lambert said. "I don't think I'll be forgetting this [day] any time soon."
New baby, first-ever England cap and a fighting chance to go to the World Cup… not bad for a young lad who started out in the Beetroot factory. Not bad at all.