Each day from now until the beginning of the Premier League season, we will preview two teams from England's top flight. You can view them all here at PST Preview central. Don't forget, the 2013-14 PL season begins on August 17th, and for the first-time ever you can watch every game live on NBC Sports.
Back in the Premier League for a second season after falling to the Championship for one, West Ham United is a perennial contender for mid-table obscurity. London's East Enders didn't make many changes from last season, aside from signing Andy Carroll from Liverpool, but he was already at West Ham on loan.
After an up-and-down 2012-13 season, West Ham finished dead center in the standings. Short-lived cup runs allowed the Hammers to focus on league play, where they tied Manchester City, Manchester United and Liverpool and beat Chelsea, but also lost to Sunderland and Wigan.
Transfers In: GK Adrián (Réal Betis, Spain), F Andy Carroll (Liverpool), F Danny Whitehead (Stockport County, Conference North), D Răzvan Raț (Shakhtar Donetsk, Ukraine)
Transfers Out: M/F Robert Hall (Bolton Wanderers, Championship), F Carlton Cole (released), M Gary O'Neil (released)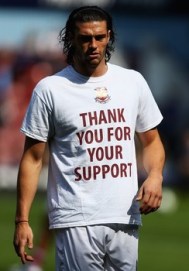 Key Player: Captain Kevin Nolan has proven to be a steady goalscorer, but if West Ham is going to contend for anything serious this year, Andy Carroll will have to step up for his new (permanent) club. When he played for another mid-level team, Newcastle United, Carroll had no trouble bagging goals, but his form waned after a move to Liverpool.
For strikers, playing well is about confidence and comfort, both of which should be easier to find at Upton Park. His seven goals for the Hammers while on loan last year were one more than he managed to score in nearly twice as many appearances for Liverpool.
Manager: Sam Allardyce enters his third season as West Ham manager. He had a relatively quiet summer after leading the Hammers to promotion from the Championship two years ago and then revamping the roster to finish in 10th place.
Much as the man himself, Allardyce's teams have a reputation for playing hard-nosed soccer. Though it may not be the most aesthetically pleasing game, it seems to get results in the English game.
Outlook: West Ham's silence in the summer transfer window could be seen as either a sign of contentment or lack of ambition. However, if the squad it has right now can find some form, a top-10 finish is not out of the question. It's hard to see any sustained assault on the league — it will probably be another erratic season of results that ends at mid-table — but a long cup run seems more likely for teams that give spotty performances.
(MORE: Read all the Premier League previews for each team here)