During the upcoming Premier League season, we plan to catch up with the US players plying their trade in England's top flight from time to time. We will chat with them one-on-one and give the players a chance to talk about all things US soccer and also about the PL.
First up in our new series, Spotlight USA, is Brad Friedel.
With under a week to go until his 16th season in the Premier League begins, not much surprises Friedel anymore. 
But the US national team veteran is surprised, and delighted, that NBC Sports will be broadcasting the Premier League this season. We found that out following Tottenham Hotspur's final preseason friendly against Espanyol on Saturday, as Freidel spoke to me at length about Clint Dempsey's move to Seattle, praising Major League Soccer for grabbing a top player in his prime.
Friedel also touched on the terrific job Jurgen Klinsmann has done transforming the USMNT's fortunes after their Gold Cup success.
But we didn't just chat about US national team and MLS news. Despite being 42, Friedel still has a job to do on the pitch for Spurs this season, so we spoke about what Tottenham hope to achieve in 2013-14, too.
Anyway, enough from me. Here's the full length interview with Friedel pitch side at White Hart Lane, on a sunny summer's evening in North London.
On NBC's decision to broadcast the Premier League:
It's big. Very big. For a main network in the States to have it's massive. And everyone knows how popular worldwide the Premier League is. It was a surprise to me actually. Everything has always been on ESPN and FOX, so it was a big surprise. But a welcome surprise. I'm really looking forward to it.
On Clint Dempsey's move:
Huge for MLS. They've got a very good player who I know the club [Tottenham] liked very much as well. I know it was a difficult decision for both sides. But it's huge coup for MLS because they got the player in his prime. It's not that often that MLS can get that. They've had to reach into their pockets to do it, which is great for our club and great for Clint. What a great acquisition. What a really good guy, great professional. Can't say enough good things about him.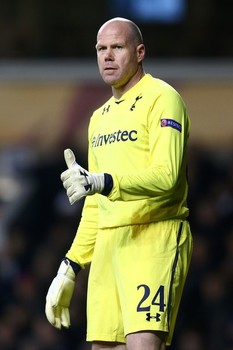 On Seattle as the perfect match for Dempsey:
If you just see every game, they sell out every game. I know the coach very, very well, Sigi was the one who started me off in my career. I know the director of football really well which is Chris Henderson who I played with at UCLA, they're really good people. The organization on a whole is run the correct way. The fanbase is enormous for US standards. If you look at the markets, the two places that Clint would probably have wanted to go if he did go to MLS, not for city sake but for club sake, would probably be to the Galaxy or Seattle. And Seattle, in my opinion, has much more of an atmosphere. So he's chosen the right one.
On the US national teams Gold Cup success and World Cup qualifiers:
There are going to be a lot of those players who end up as first team players. But what is good is that it was all different players, or mostly all different players than were playing in the qualifiers. So it shows that Jurgen is slowly but surely getting his strength in depth that he wants and can play in his system. They're on a really good run of results after a little bit of a shaky start to the qualifying, especially in the first little phase. They're going to qualify very easily now, which they should do, but they had to get the results. Things are looking up. Jurgen went in, he's obviously brought in a lot of changes. When there are a lot of changes some people are going to adapt to them, some people aren't. He has to weed all those people out. Once he gets all his people in, then you can start seeing the results and that's what is happening right now.
On Spurs' hopes this season:
I think we can achieve a lot this year. I will let the manager, if he wants to put the goals out in the paper then that's up to him. We've got a really good side and we've added some tremendous players to the squad and I believe we're still trying to add a few more. And we're really looking forward to it starting next Sunday against Palace.
Don't forget, this season you can watch every Premier League game live for the first-time in US history on NBC Sports.