Each day from now until the beginning of the Premier League season, we will preview two teams from England's top flight. You can view them all here at PST Preview central. Don't forget, the 2013-14 PL season begins on August 17th, and for the first-time ever you can watch every game live on NBC Sports.
History counts for a lot, of course, but it's getting harder to recall that Liverpool FC has won more European trophies than any other English club.
Liverpool as a city was an economic mess in the 70s and 80s, but the soccer at Anfield Road was king, with hardware tumbling in regularly from league play, the FA Cup and European appearances. There is also some grim history attached to the club, which has been front and center in two of the game's big black marks of another, more troubled time. In 1985, Liverpool was banned from Europe temporarily for its part in the Heysel Stadium disaster, where 39 Juventus fans died in Belgium.
And in 1989, 96 Liverpool supporters were crushed to death in the terrible Hillsborough tragedy.
Liverpool enjoys famous rivalries with Manchester United and Everton, the latter of which is the twice-annual (and highly volatile) "Merseyside derby."
Transfers In: Kolo Toure (Manchester City), Luis Alberto (Sevilla), Iago Aspas (Celta de Vigo), Simon Mignolet (Sunderland).
Transfers Out: Jamie Carragher (retired), Danny Wilson (Heart of Midlothian), Jonjo Shelvey (Swansea City), Suso (Almeria), Pepe Reina (Napoli), Jay Spearing (Bolton Wanderers).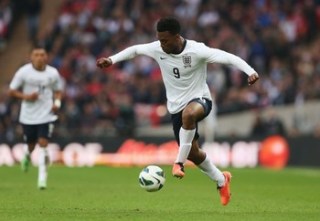 Key Player: Uruguayan starlet Luis Suarez is a striker with significant bite to his game, as we know. What we do not know is long he'll remain at Anfield, as this sad summer of "will he or won't he?" drags on. Meanwhile, the attack doesn't look too bad without him, and a lot of that is about emerging striker Daniel Sturridge and playmaker Philippe Coutinho.
Sturridge (pictured left) looms even larger in the Liverpool equation, given Suarez's insistence on locating the rear exit. And we could argue that the young striker will shine even brighter as the attacking focal point. That's saying a lot since Sturridge hit 10 goals in just 14 appearances last year.
Already an England international, one blessed with size, technique and pace, Sturridge wears the stamp of "budding star."
Manager: The word seen so frequently around Brendan Rodgers over the last few months at Anfield is "patience."  This year, increasingly, the term we are likely to see alongside is "running out," unless he keeps things steadily moving in the right direction.
We are now a year into Rodgers' modernization project at Anfield as the manager attempts to mold Liverpool's style into something resembling his previous fine work at Swansea, with dynamic tactics, dominant possession, balls on the ground and a high defensive line.
Things didn't start well in Rodgers' first go-round at The Kop, but a stronger second half last year inspired hope of better days, something that looked like the actual "better days" around Anfield. Either way, the rebuilding certainly goes on for Rodgers, who may begin his second Liverpool campaign with five new starters, depending on the resolution of this Suarez situation.
In Rodgers, who is from Northern Ireland, Liverpool has an innovator who is looking to build a long-term model for success while constructing a team that can win with style; we'll see if the supporters and the club's American ownership have the patience for it.
Outlook: Liverpool is a tough PL nut to crack at the moment due to the Suarez tumult. Long story short, the team's top man and easily its best goal scorer wants out; management at Anfield wants him to stay rather than chase Champions League ambition at Arsenal, and the situation remains a distracting stalemate. With Suarez, volatile figure though he is, a top four PL finish is far more reachable. His 51 goals in 90 matches for the club speak for themselves, as that is truly a prodigious rate.
Spaniards Iago Aspas and Luis Alberto, summer reinforcements for Rodgers, should help ease the sting of a Suarez departure while helping the manager establish that continental flourish.
Replacing Carragher's presence on the back line is up to Kolo Toure, but it's the longtime Liverpool man's leadership that will be most sorely missed.
.