Each day from now until the beginning of the Premier League season, we will preview two teams from England's top flight. You can view them all here at PST Preview central. Don't forget, the 2013-14 PL season begins on August 17th, and for the first-time ever you can watch every game live on NBC Sports.

By final ranking, last season was a huge success for West Bromwich Albion, the club's eighth place finish their best in 22 years. Look at the points, column, however, and you see a Baggie team that was closer to relegation than Europe. Having failed to secure the return of last year's leading scorer, the West Midlands club looks unlikely to replicate last year's success, but for a team that's faced relegation three times since 2003, merely staying up is still considered a successful season.
Transfers In: F Nicolas Anelka (Juventus), D Diego Lugano (Paris Saint-Germain)

Transfer Out:  M Scott Allan (Birmingham City), F Marc-Antoine Fortuné (Wigan Athletic), D Gonzalo Jara (Nottingham Forest), F Romelu Lukaku (loan expired, Chelsea), M Romaine Sawyers (Walsall), W Jerome Thomas (Crystal Palace)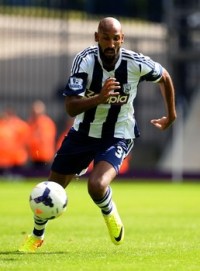 Key Player: It probably doesn't speak well of the Baggies' summer that they're left relying on Nicolas Anelka (pictured) to fill the shoes of the departed Romelu Lukaku, but with seven goals in preseason, perhaps the 34-year-old's tank isn't empty. In the few minutes he got at Juventus after his January loan from Shanghai Shenhua, Anelka seemed to have left his game in Asia. He only ended up appearing three times for Antonio Conte. Now, back in England have a year-and-a-half sojourn, Anelka's hinting he may have something to give to his 11th club.
He certainly won't be able to replicate Lukaku's production, though, be it replacing the Belgian international's goals (17) or helping get more out of Shane Long and James Morrison. Better for West Brom to hope the addition of Diego Lugano plus improved play from others at the back reduces their 57 goals allowed.
Manager: After nearly a decade as one of the most-respected assistants in England, Clarks finally got his shot at The Hawthorns, replacing Roy Hodgson after his predecessor took the England national team job. With the Baggies having finished 11th and 10th in Hodgson's year-and-a-half, some expected West Brom to regress. Instead, the former St. Mirren and Chelsea defender forged the league's eight-best attack, restoring some of the danger the team showed when they were promoted under Roberto Di Matteo.
Outlook: West Brom finished last season atop a relatively tight cluster of teams from eight to 18th. Between Lukaku's loss, the lack of improvements elsewhere, and the moves their competition's made, West Brom seem set for a significant step back. If things go wrong, they could battle relegation; if, however, Clarke can find replicate the magic he found with Lukaku, the Baggies could against finish in the league's top half.
MORE: Read all the Premier League previews for each team here