Each day from now until the beginning of the Premier League season, we will preview two teams from England's top flight. You can view them all here at PST Preview central. Don't forget, the 2013-14 PL season begins on August 17th, and for the first-time ever you can watch every game live on NBC Sports.

After claiming fourth in 2011-12, Tottenham "regressed" last season, their first under André Villas-Boas. Regressed is in quotes because the club posted their best point total in a 38-game season, matched their largest win total in the Premier League era, and made the quarterfinals of Europa League. Along the way, one of the brighter young managers in Europe started to remake the squad he'd inherited from Harry Redknapp, a process that should start to reap rewards this season.
Transfers In: W Nacir Chadli (Twente), M Paulinho (Corinthians), F Roberto Soldado (Valencia)
Transfer Out:  D Steven Caulker (Cardiff City), F Clint Dempsey (Seattle Sounders)
Key Player: Sometimes you have to think long and hard about which player's going to have the greatest impact on a team's season. Other times you get the team that has Gareth Bale.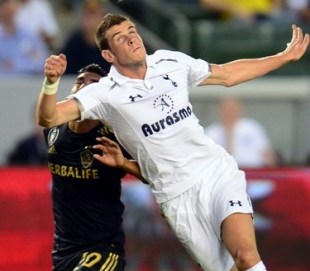 If he's sold to Real Madrid (which seems unlikely at this point), Tottenham gets the largest transfer package in history, somewhere close to a $130 million evaluation. They spend some of that this window, some in January, some next summer; regardless, they're able to address multiple areas of need. Whether they can replace the attacker's 21 league goals morphs into a debate as to whether improvements at the back and the influx of quality depth do enough to offset the loss.
And if Daniel Levy keeps Bale? The 24-year-old keeps improving, just as he's done every season. With a year's experience, Villa-Boas knows how to get the most out of him, forgoing the try-and-error period during the season's opening months. In the coach's favored 4-3-3, Bale makes yet another leap and starts to justify the vague Cristiano Ronaldo comparisons that have latched on to him this summer.
Manager: Still only 35, Villas-Boas has already amassed over three years or top-flight experience, and while his third season (a short spell at Chelsea) was initially viewed as a disaster, history has been kind to the former Porto boss. Between the work he's done at White Hart Lane and the troubles Chelsea saw last year, his time at Stamford Bridge is now seen as a young manager being a bad fit for a idiosyncratic squad.
This year, however, between Paulinho and Soldado, Villas-Boas has the pieces to implement his preferred approach. While he did well playing a 4-2-3-1 last season, now Villas-Boas can play the same system that brought him success at Porto. He'll be expecting a return to Champions League.
Outlook: Spurs have the talent to compete as high as third place, especially if they acquire some depth toward the end of the summer window. More likely, they'll be battling Arsenal for fourth, again, with a large portion of their fate determined by how Arsène Wenger spends his rumored war chest.
MORE: Read all the Premier League previews for each team here