We covered the pursuit of Daniel Agger earlier today, with Barcelona's recent bid for the quasi-want-away defender having been rejected by Liverpool. With Chelsea being pretty closed-minded about David Luiz, the Blaugrana's getting nowhere with their main targets. All the while preseason continues, Supercopa approaches, and Gerardo Martino still doesn't have reinforcements.
His entire central defense corps is Gerard Piqué (fine), Carles Puyol (stay healthy!), Javier Mascherano (well, if it's not a big game), and Marc Bartra (maybe he's ready?). In a pinch, Adriano or Alex Song (or even Sergio Busquets) could fill in. While in theory the depth chart seems fine, going six deep, it's roughly the same group that always seems thin once the calendar turns.
Hence Barcelona's problem. The games that count are fast approaching, yet Barcelona doesn't appear to have learned from their mistakes. They haven't brought anybody in. And with Carles Puyol in the last chapters of his career, they just can't sit back and hope their best defender can be healthier this season.
That's why Thiago Silva's link to Barcelona persisted until he got a contract extension at PSG. That's why the David Luiz rumors won't die. That's why Daniel Agger is back in focus. And that's why a small brigade of random defenders continue to see their name pop up as potential targets.
One of the most persistent is Iñigo Martínez (pictured, in red, above), a 22-year-old currently playing for Real Sociedad. This one makes so much sense, it's worth asking why it hasn't happened. Sure, sure, the player might not want to move or the club might not actually want him, but since when did we stop suspending our disbelief on transfer rumors? If we accept the move's possible, the best explanations for the lack of a deal seem (a.) Sociedad wants to hold on to a key player while trying to qualify for Champions League, or (b.) Barcelona's been reaching for bigger names, taking a quality, young player's availability for granted.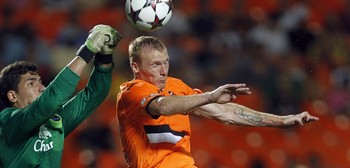 Another player linked throughout the summer is Valencia's Jeremy Mathieu (right, in orange), though nobody can quite explain why Barcelona's so interested in a player who, while decent, kind of seems like another version of Adriano. He can play fullback, in midfield, fill in a little in the middle, but he's not much of an upgrade on what Barcelona's got. Mathieu also signed a contract extension with Los Che this summer, though the deal's said to have a buyout clause with two prices: one general rate; and a lower fee for Barcelona.
A third name mentioned in today's Spanish papers may be the most difficult to get. It's not that Jan Vertonghen is necessarily that much better than, say, Martínez (though he probably is better). It's that he's under contract to a club fun by Daniel Levy. And Daniel Levy doesn't like losing things he wants to keep. By all indications, Vertonghen's somebody Levy values at Tottenham Hotspur, having brought him in from Ajax last summer. Sure, Barcelona could come with an offer he can't refused, though this late in the game, even overpaying for the Belgian international might be met with a "maybe in January."
The takeaway here, however, may not be any specific rumor; rather, the fact that there are still so many names linked to Barcelona. It's almost as if their search for a defender only picked up once Martino arrived, and they're still whittling down their list. Given the circumstances behind Vilanova's departure, that may very well be the case, but if Barcelona really want to get somebody new in before the end of the window, they need to start zeroing in on a couple of guys, throw down their best offers, and quickly move on if they can't strike a deal.