With Wednesday's international break in the books, there's nothing on the soccer calendar separating us from the start of the Premier League season. It's time to take inventory of injuries and really looking at how your club matches up against their Matchday 1 opponents, because now that players' country responsibilities are over, it's time to focus on the club season.
Here at NBC, that means the start of our Premier League coverage. Granted, at PST we've already hitting been things pretty hard, rolling out two team previews per day, our 5 to watch lists (goalkeepers, defenders, midfielders), as well as tracking the craziness that will be the last weeks of the transfer window. Come Saturday, however, broadcasts, highlights, pre- and post-game shows, analysis, and new, dedicated programming surrounding the games will be piled on to our already extensive coverage.
That's what happens three days from today – on Saturday, August 17 – when NBC Sports Group kicks off the most ambitious, extensive and comprehensive coverage of the Premier League available anywhere in the world. Coverage begins at 7 AM ET on NBC Sports Network with the Liverpool-Stoke City match and continues throughout the season on the networks of NBCUniversal, on the Premier League Extra Time bonus TV package, and streamed on NBC Sports Live Extra.
Find out the TV schedule for all the games live on NBC Sports.
Here's the next stop in our countdown:
PREMIER LEAGUE NUMBER OF THE DAY: 3
In 1999, Manchester United became the only club in the history of English soccer win the "treble" by capturing the 3 biggest titles in one season: the top league title (Premier League), the top domestic cup (FA Cup) and the top European title (Champions League).
NBC Sports Group debuts Premier League coverage from its new, state-of-the-art International Broadcast Center in Stamford, Conn.: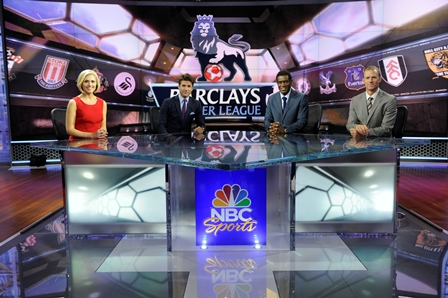 For more photos of host Rebecca Lowe and analysts Robbie Mustoe, Kyle Martino and Robbie Earle in the studio, click here.
NBC Sports Soccer's Facebook page has posted red and yellow card "Social Media Fouls" and "Keep Calm and Pick a Side" posts for fans to share on their Timeline.
NBC Sports Group will make available in the United States all 380 games from the Premier League. That's more than anywhere else on the globe (including the U.K.).  All games will be preceded and followed by Premier League Live pre- and post-match shows from the NBC Sports Group International Broadcast Center in Stamford, Conn.