Each day from now until the beginning of the Premier League season, we will preview two teams from England's top flight. You can view them all here at PST Preview central. Don't forget, the 2013-14 PL season begins on August 17th, and for the first-time ever you can watch every game live on NBC Sports.
Manchester City came blasting onto the top-of-the-table scene in 2009.  Having been purchased by the oil-rich Abu Dhabi United Group – owned mainly by the Sheikh Mansour bin Zayed Al Nahyan, a member of the Abu Dhabi Royal Family and high up in the U.A.E. government – the club went on an unprecedented spending spree to blast them up the table from seasons of mid-table obscurity to fifth place in 2010, third place in 2011, and the Premier League title in 2012. The run also included winning the 2011 F.A. Cup, their first major trophy since 1976.
The Citizens now remain a force at the top of the table, although last season was a disappointment in relation to the previous three years of growth.  They finished second in the Premier League, which on its own sounds like a success (hey, you can't win 'em all), but the kicker is that bitter rivals Manchester United dominated the league, winning the title by 11 points over City. That margin of defeat, plus defeat to Wigan in the FA Cup final and City's enormously disappointing exit from the Champions League in the group stage – they finished last in their "group of death" along with Borussia Dortmund, Real Madrid, and Ajax – cost former manager Roberto Mancini his job.
Transfers In: M Fernandinho (Shakhtar Donetsk, Ukraine), M Jesus Navas (Sevilla, Spain), F Stevan Jovetic (Fiorentina, Italy), F Alvaro Negredo (Sevilla, Spain)
Transfers Out: D Wayne Bridge (Reading, England), D Kolo Toure (Liverpool, England), D Jeremy Helan (Sheffield Wednesday, England), F Carlos Tevez (Juventus, Italy), F Roque Santa Cruz (Malaga, Spain)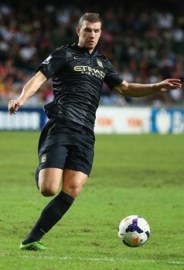 Key Player: Looking at Manchester City's squad, it has some serious star power. Despite the losses of strikers Mario Balotelli and Carlos Tevez – both tabloid-favorites – in the last year, there still remains some big names.  Englishman Joe Hart is one of the best goalkeepers in the world.  Sergio Aguero scored gobs of goals in their title-winning season two years ago, and remains vital in the attack.  Midfielder Yaya Toure is world-renowned for his vision and strength.  Defenders Vincent Kompany and Pablo Zabaleta had excellent seasons last year. However, with the sale of Tevez, new manager Manuel Pellegrini has moved the attacking spotlight directly onto previously underrated Edin Dzeko (pictured). More than ever, Dzeko will carry the load on his shoulders up front, with Aguero most likely stepping back into a supporting striker role.
It's not to say he can't handle it.  The Bosnian superstar has had one of the best goal-per-minute numbers in the entire Premier League the past few seasons, despite most of his duties coming off the bench behind Tevez and Aguero.  The 27-year-old scored 14 goals in 32 Premier League appearances, but only half those appearances were starts.  That gave him a goal every 130 minutes last season.  The year before that when City won the title? A spectacular 107 minutes per goal.  And it's not just the Premier League he's lit up either – in the 2-1/2 Bundesliga seasons with Wolfsburg prior to moving to City, he scored a goal every 123 minutes.
Dzeko has the numbers and the pedigree for the full-time job at City.  Now, he's getting his chance.
Manager: Roberto Mancini was well-liked by Manchester City fans, but was unfortunately a victim of his own success.  His title-winning season proved to the front office that the job could be done, and therefore the next season's results – despite what would have been a smashing success a few years ago – were considered a severe disappointment.  With rumors flying of his sacking the entire second half of last year, he began to alienate players and burn bridges, leading to his sacking following the season.
Chilean Manuel Pellegrini was hired in his stead, and the club is looking forwards.  Pellegrini has a few big names on his managerial resume, but none for very long, and experience is where he lacks.  He managed throughout South America for 15 years of his career, finally seeing major success with Argentinian giants River Plate which led to his hiring at La Liga's Villareal.  In Spain, Pellegrini saw smashing Champions League success at Villareal, Malaga, and Real Madrid, although his time at Madrid was short, losing his job to "The Special One" – something which Pellegrini has publicly expressed his regret, wishing he'd been given a chance to build a squad.
Last year, Pellegrini brought Malaga deeper into the Champions League than the club ever has been before, winning Group C with an unbeaten run of six matches against AC Milan, Zenit, and Anderlecht.  They defeated Porto in the first knockout round, and missed out on a place in the semi-finals by losing to Borussia Dortmund in heartbreaking fashion, conceding two stoppage time goals with victory in their clutches.  Despite the finish, his smashing success at Malaga in the Champions League – something that still eludes Manchester City – led him to be selected for the job.
Outlook: Manchester City has changed a lot since the end of last season.  With a new manager, plus a relatively new target man up front, they will look to push towards more trophies.  City goes as Edin Dzeko goes this year.  They can manage marginal success without him, but they'll need him to fire in goals at a high pace to bring home the silverware.  New boys Stevan Jovetic and Alvaro Negredo were brought in with big money moves for both support and depth, and Sergio Aguero remains key. But at the moment, it all runs through Dzeko.