Tottenham Hotspur star Gareth Bale may be locked in a transfer negotiation with Real Madrid, but regardless of the outcome, the Welsh winger has found at least one way to cash in. Last week, Bale trademarked his "11 of Hearts" goal-scoring celebration.
Now, he can use it on clothing, shoes, hats and jewelry, monetizing his brand in much the same way David Beckham, Cristiano Ronaldo and other superstars have in the past. The United Kingdom's Intellectual Property Office approved the trademark last week.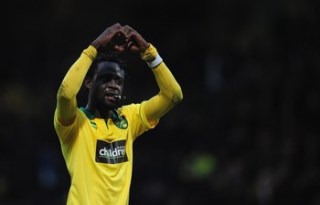 After he scores a goal, Bale will use his hands to form the shape of a heart (above). Sporting Kansas City striker Kei Kamara has a similar celebration (left), which has spawned the Twitter hashtag #HeartShapedHands. He even had it on the back of his jersey at one point during 2012 in place of his name plate.
In the modern age, soccer players have become more concerned with their image and brand than in any previous generation. It's not uncommon for players to have their own public relations teams, publicists and even lackeys in charge of their official social media accounts.
United States national team veteran DaMarcus Beasley has his own line of jewelry, The Diamond Studio, although that's a more subtle form of branding, as he does not have his own logo. Former Major League Soccer player and current commentator Brian Dunseth (who sometimes works for NBC) started his own clothing company called Bumpy Pitch.
Here is the logo that Bale trademarked, which will presumably be stamped on all sorts of clothing and other products in the near future: