In addition to previewing two teams from the Premier League each day until the beginning of season, we will name five players to watch at each position, goalkeeper through forward. The 2013-14 season begins Aug. 17, and for the first time, every game will be broadcast live in the United States on NBC Sports.

With transfer evaluations climbing higher and higher, clubs are finding it more and more difficult to get a hold of world-class strikers.  Heck, Barcelona management claimed a while back that Lionel Messi, considered by most to be the best striker in the world, to be worth €580 million.  Right then. Back to the drawing board.
When looking at forwards in the Premier League, goals are obviously the first order of business.  It's their job, after all.  But sometimes it's not just about putting the ball in the back of the net.  Depending on the makeup of certain clubs, it can be just as much about teeing up your teammates as being the one to smash it home.  Let's take a look:
Robin van Persie, Manchester United
Arsenal fans knew when the 30-year-old Dutchman departed the Emirates last summer that they would be watching something special over at Old Trafford.  Unfortunately, they didn't think it would be this special.  Van Persie led Manchester United to Premier League glory in relatively dominating fashion, sending legendary manager Sir Alex Ferguson off with a bang.  "RVP" banged in a whopping 26 league goals for the Red Devils, and at an age where many would be beginning their decline, van Persie shows absolutely no signs of slowing down.  In addition to the goal-tally that won him the Premier League Golden Boot award for highest goalscorer, he also laid off 15 balls that teammates buried into the back of the net.  He probably would have been the overwhelming favorite to win the PFA Player of the Year had Gareth Bale not run away with the award, something many people balked at since Bale also won the PFA Young Player of the Year award – some believe he shouldn't be eligible for both.  Either way, van Persie unanimously made the PFA Team of the Year, capping off a fairytale season.  Sorry Arsenal fans.
Fernando Torres, Chelsea
Chelsea is a bit of a wild card this season up front, as Jose Mourinho has a number of different options to work with.  It will be interesting to see who "The Special One" goes with, although the initial feeling is that Torres will begin as the guy.  The Spaniard has had a whirlwind Chelsea career, seeing many ups and downs.  When he first moved to Stamford Bridge from Liverpool for a whopping £51 million ($79.8 million), the Anfield legend had an anvil of expectations on his shoulders.  He became a laughingstock soon after the move, as he almost appeared cursed given the chances he failed to convert.  The criticism hasn't ceased, but he's slowly improved – not to the level of expectations the transfer value has put on him, but he's slowly getting back to the world-class player that came to play at Anfield every week.  A relatively successful final few months of last season coupled with a prolific Confederations Cup, I would imagine he's the player to get the nod over Demba Ba and Romelu Lukaku.  If he does, those two will for sure be breathing down his neck for the spot in the Starting XI, and if he starts the season on the bench, his story is just as worth keeping an eye on.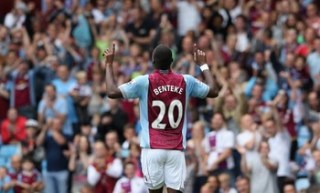 Christian Benteke, Aston Villa
While Aston Villa barely avoided relegation last season with a bitter fight down the stretch, Christian Benteke is without a doubt the reason they stayed up.  The 22-year-old Belgian came to Villa from Genk of the Belgian Juliper Pro League for £7.8 million ($12.2 million), an absolute steal given the 19 goals he racked up, which was good enough for fourth place on last season's goalscoring list.  Benteke has effectively pushed former Sunderland star Darren Bent out the door, and cemented the spot as his own. At such a young age, Benteke is almost certain to get even better, and is battling with Romelu Lukaku for the starting spot at the front of the Belgian international side, a team which is making a ton of noise ahead of the 2014 World Cup.  While the move up the Premier League ladder that Benteke desired this offseason didn't materialize, it's Villa's gain and he's signed back on with a new contract until 2017 to help Villa once again avoid the drop.
Edin Dzeko, Manchester City
Having been left to play second-fiddle to Carlos Tevez, Sergio Aguero, and Mario Balotelli for the last few seasons, it would seem that Dzeko has now fully grasped the starting striker spot for the Citizens as they aim to return the Premier League championship to the blue side of Manchester.  Dzeko has one of the best goal-per-minutes ratio in the Premier League over the past three seasons, and he hopes to bring that to a purely starting role.  Having been used often as a super-sub to change the course of a game, Dzeko will have to traverse the full 90 more often than not.  Providing both an aerial and ground threat, and a good combination of strikers behind him to give him rest when needed, Dzeko has the talent to make plenty of noise in the league next season and put Manchester City back on top in new manager Manuel Pellegrini's first season in charge.
Rickie Lambert, Southampton
My surprise pick for this post, Rickie Lambert is coming off a dream week.  He marked his first-ever England international call-up by coming on for his debut and scoring a the winning goal on his first touch of the ball.  The story hasn't just started though.  The 31-year-old bagged 15 goals last season for Southampton, and having led the club up from League One just four years ago, he paved the way for the Saints' 14th place finish last year.  They'll be looking to stave off relegation once again, but keep an eye out for the Englishman who's soccer story isn't up just yet, despite making his 500th career appearance last year.
---
Other Chelsea strikers Demba Ba and Romelu Lukaku got consideration here, but I only had five to choose from so went with the man I thought would get the most looks early.  Also getting honorable mentions here would be Fulham's Dimitar Berbatov, Tottenham's new signing Roberto Soldado, and Arsenal's pair of Olivier Giroud and Lukas Podolski.  Luis Suarez is very possibly on his way out, and won't feature in the first six matches anyways, so I left him off.