Shahid Khan, the owner of the Jacksonville Jaguars and the new top dog at Fulham, is a strict businessman.  At the time of his purchase, he told those in charge at Fulham that they would be free to do their jobs, but if the results weren't there, he wouldn't be merciful and kind.
Khan and his epic mustache joined the likes of Randy Lerner, the Glazer family, and Stan Kroenke as American owners in the Premier League.  While he clearly connects his American heritage with the English game, there's an overwhelming desire to succeed.  The American game is important, but the success of Fulham is now even higher on his list.
It's clear Khan speaks in the language of business, but he has an incredible passion for not just sports but the fan experience.  He can be seen at Jaguars fan events speaking with eager supporters, and is incredibly accessible to the media.  His ability to market is second to none, and he's gotten the fanbase in Jacksonville more excited than ever about their NFL team.
Now he's passing that along to Fulham.  Former owner Mohamed Al Fayed gave everything he had to the club, but he mostly conducted business in private.  Khan respects everything Al Fayed gave to the club, but his approach differs.  The fans are important to him, and it reflects in his actions.
ProSoccerTalk's Kyle Bonn got to chat with Mr. Khan about his new ownership venture, his feelings on the game in the United States and how he believes the two sports teams he owns will coexist.
With Mohamed Al Fayed having such an integral role in bringing Fulham up to the Premier League, is he going to be sticking around the club in an ambassador or honorary role?
SK: "Well the transition is complete, but he's a major part of the history of Fulham.  In all likelihood Fulham wouldn't be around if it wasn't for him, the investment he made, and the love and passion he had.  So he's a real part of the club and he can be around as little or as much as he'd like.  Even for the last several years he was really not around the club, but he'd be welcome around whenever he'd like."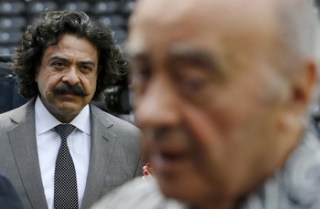 With your ownership of Fulham as well as the Jaguars, do you have an overall plan to cross-promote these teams, and will they be more separate entities or will they coexist strongly?
SK: "They're definitely separate entities, and you don't want to have any confusion about that.  But having said that, we have a number of opportunities to have corporate partners that would like to take part in both.  I had several guests at the Real Betis friendly at Fulham who came over to get a chance to work with or sponsor Fulham and then also be able to do it with the NFL game in London or back in the U.S. with Jacksonville.  So we have a unique space that I think is going to help both teams, but there can't be any confusion – they are on their own.  Both of them we can use a relationship to develop fan bases.  With Jacksonville in London, we had started last year with the Union Jax fan club, and when Fulham happened they picked up several thousand members that day.  Fulham will definitely be playing friendlies starting next year in Jacksonville; it's a very soccer crazy atmosphere so they're delighted to have Fulham coming.  There's opportunity, but both of them have to exist on their own and improve on their own."
There are American owners in the Premier League, but you are one of the most accessible to the public.  Do you think that with your new connection, you're in a position to help spread the excitement of the game of soccer to American sports fans and help grow excitement about the game with those who may not have been previously interested?
SK: "I can only speak for myself, but yes.  We have an opportunity where Fulham and the Jaguars stand on their own, but we also have an opportunity where 2 + 2 = 5.  A unique place where we can offer opportunities at both clubs for the fans because of the relationship."
Soccer has a much larger following in this country than it ever has before, but it still struggles to cement itself in the average American sports fan's household.  Do you think it could compete with sports like baseball in the near future or is that a hard sell?
SK: "I think putting a quantifying number on it to compare to baseball, I think I'm in no position to answer that, but I can tell you that soccer is on the upswing.  I see that from the number of people I've known for years – we never talked about the Premier League or soccer, and now Fulham happens.  In Jacksonville, I talked to people about how they can get Fulham apparel or when is the friendly, so there's a huge amount of interest.  So soccer in the U.S. is definitely on the upswing, and NBC is on the ground floor with broadcasting the games, and we're counting on the fact that what NBC sees in soccer is correct."
Fulham have a legacy of an American connection.  Some fans refer to it as "Fulhamerica."  Did this attract you to the club at all and would you consider giving a harder look at American players because of this past?
SK: "I think that's a part of Fulham's history which I think is great, but Fulham has a lot more that made it the perfect club for us at the perfect time for us.  The Premier League is very competitive like the NFL, so you want to get the best players.  They (the American players) were great for Fulham, but moving forward we want to get the best players.  Hopefully some of them are Americans, that would be a great connection."
The style of promotion and relegation is so engrained in the fabric of soccer, except here in America it's somewhat foreign.  Do you think that concept should be applied here to Major League Soccer or other sports in the United States?
SK: "I don't think it would work.  There's something very unique about the concept of promotion and relegation, but in the U.S. it doesn't make sense.  The sport I know, at least from a business standpoint is the NFL.  What makes it unique and exciting year after year is the competitive balance – the draft, a hard salary cap, scheduling, etc – you can't have those with promotion and relegation."
Between the Premier League and the NFL, do you see any similarities between the two, and do you have a favorite?
SK: "They have a lot in common. We're talking about two leagues at the top of their sport.  Obviously very passionate fan bases, large TV or media revenues, so there's obviously a lot in common."
Could you see a Fulham player ever being turned into a kicker for the Jaguars?
SK: *laughing* "You know, that is an interesting idea.  (Jaguars kicker) Josh Scobee was talking to me about it last week.  We talk about it for fun when we have a friendly here next year to try that.  Josh actually used to play soccer with Clint Dempsey, so he shared a lot of similarities.  Moving forward, how you evaluate talent can cross the game.  Nobody really knows how they compare but this would be an interesting way of finding out."
I didn't know Josh played soccer with Clint!
SK: "He told me he gave up his hopes of professional soccer once he played with Clint, he thought he couldn't make it, so he figured he'd better get good at kicking a ball for football."