NBC Sports' national columnist Joe Posnanski has been doing his homework ahead of the new Premier League season.
Heading over to London for a four day jaunt, Posnanski got his teeth stuck into understanding what makes every Premier League team tick. And did a very good job of it indeed.
Read Posnanski's third piece from London, as he looks at the Premier League supporters' and how they share their love and passion for the Beautiful Game.
The first piece of his three-part series previewing the Premier League discussed Manchester United's dominance, after Posnanski attended the FA Community Shield to soak up the atmosphere of a big game at Wembley. The second piece was about how to pick a Premier League club, as Posnanski made comparisons to American sports franchises'.
And his final piece of his three part series focus on the fans. The people who've helped turn the PL into the most-watched league in the world.
So, last weekend I was lucky enough to spend the day with Posnanski in and around London, visiting soccer analysts, covering the FA Community Shield and generally touring around with him.
Here it goes, a behind the scenes look at my first assignment with NBC Sports to cover the Community Shield and meet the national columnist. A good time was had by all, enjoy.
Community Shield, Tottenham, Posnanski, Friedel, Opta and NBC beginnings… What a weekend
LONDON — Two top games in two hectic days. Sadly, it went by in a flash.
Over the past weekend, I watched, analyzed and chatted with some of the most famous teams, managers and players in soccer.
The following account details my first official assignment for NBC Sports: A behind the scenes look from a writer entrenched in the crazy world of the Premier League.
My brief from NBC was to cover the FA Community Shield between Manchester United and Wigan at Wembley Stadium. And oh yeah, meet up with legendary sports writer Joe Posnanski and spend a day with him talking soccer and attending a showpiece final.
I've had worse gigs…
All of this comes ahead of the 2013-14 Barclays Premier League season, which BTW you can watch every game live on NBC Sports, in case you've been living under a rock or something.
So this past weekend, before the Premier League begins, was a test run. A glorious one at that. Disclaimer: Spurs, Moyes, Posnanski and… taxi's, feature prominently.
***
I rolled up to Grosvenor Square in London's swanky Mayfair district. My mission: to meet NBC Sports' national columnist Joe Posnanski.
We shook hands outside the hotel's revolving door guarded by immaculately dressed gentlemen in top hats.
Mission accomplished.
But this was only the beginning of our journey. It was 8:30am on Sunday, August 11. The sunshine flickered through the taxi window as we advanced across Westminster Bridge, past Big Ben and the Houses of Parliament towards our first destination.
Conversation flowed easily. Two Joe's with two completely different stories. Two Joe's engrossed by the aura of the Premier League.
We got on well.
But I'd like to know who doesn't get on well with Posnanski. Friendly, inquisitive and always ready to share an anecdote of his rich and illustrious life as a top sports writer, we could have rolled around London all day in the black cab chatting about everything and anything.
***
I spent my Saturday alone at White Hart Lane to check out Tottenham Hotspur. Following Spurs' final preseason friendly
vs. Espanyol, I was immediately ushered away from the rest of the gathered media and onto the hallowed turf. US national team legend Brad Friedel was waiting for me.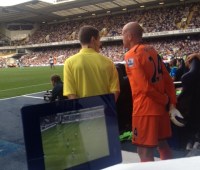 Tottenham's press officer had taken a shine to me and as he led me towards Friedel he whispered into my ear. "If you ask him anything about Bale, I'll kill you." Lovely.
Friedel shook my hand with a wry grin on his face. "Bloody hell," I thought. "He's taller than he looks on TV."
That shock aside, we chatted Dempsey, USMNT, Klinsmann, Gold Cup, World Cup, and Spurs. Then he sauntered off towards the player's car park with a spring in his step.
I attended the game at White Hart Lane on a whim. I fancied trying to see what the situation was with Bale and left my hotel room barely an hour before kick off. Spurs treated me extremely well. Nothing was too much bother for them. I'll be back.
It was a tight match. Tottenham took the lead through new $37.5 million signing Roberto Soldado but Espanyol pinned them back for a 1-1 tie. Nobody cared about the game, afterwards everyone wanted to ask Andre Villas-Boas about Gareth Bale. But plenty of questions were blocked by Spurs' media team. The guessing game goes on.
***
Fast forward to Sunday morning. Joe and I were off to Opta's headquarters.
Opta are the leading company analyzing England's national sport. If you love stats, you'll love Opta. So we went along to their office outside Waterloo station to check it out.
As inquisitive as ever, my new colleague did most of the talking. We got expert insight from the wonderful staff, and the work they're doing at Opta is phenomenal.
General soccer chatter followed a brief history lesson on what Joe needed to know about each team. In fact we spent almost three hours with Opta discussing the beautiful game. I could sense Joe was impressed. So was I.
The undying feeling to come out of the meeting: progress. Opta have finally gotten through to all of England's top clubs about the power of having analytical experts look at every move their players make. The Premier League is about to have its "Moneyball moment."
Secrets were revealed. A plethora of incredible graphs and tables were shown. Joe and I were blown away. It's safe to say Opta have two new fans.
***
On the way to Wembley stadium on Sunday afternoon, we discussed Joe's incredible career so far.
From working at the Kansas City Star to writing books about Joe Paterno, the Cincinnati Reds and Buck O'Neill. Followed by incredible tales from Atlanta '96 and the Beijing Olympics, his insights would excite any writer. I was soaking it all up.
Joe was a true gentleman. We spoke about my background, my home city of Southampton and about the upcoming NBC coverage of the Premier League amongst many other things.
But conversation never steered too far away from soccer. He picked my brains mercilessly to gain any insight into Premier League history that he could.
I duly obliged… and loved every second of it.
***
Robin van Persie scored twice. Manchester United won the Community Shield. David Moyes wasn't a happy man. That about sums up the afternoon we spent at the home of soccer, Wembley Stadium.
There was huge interest in the latest news on Wayne Rooney in Moyes' post-match press conference. And Manchester United's new manager wasn't pleased with the latest round of rumors being circulated by the British journalists.
"I'm quite enjoying talking about it [Rooney's departure]," Moyes jibbed. "Because I'm hearing so many of you get it wrong. I know most of you and I think to myself, 'I think you're a bit cleverer than that boys.' But some of you aren't acting like it."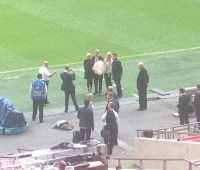 Joe was quietly laughing a few seats in front of me.
I flitted between the press room and the mixed zone at Wembley for a while, before I met up with Joe at our seats in the now empty stadium, to write up a few pieces on Moyes' comments.
Then we headed back into Central London. The soccer grilling from Posnanski continued.
***
On the way back to Joe's hotel in Mayfair we went through the list of Premier League teams and debated which side would be best equated to an American sports franchise.
"Why should I support Newcastle?" Joe asked me. "Because they've got extremely passionate fans and one day, just one day they might be good." There was a brief pause. "So they're the Bills," Joe said.
We went through every team, laughing and joking all the time, we had a blast doing this.
The comedic genius of Coach Ted Lasso came up and we chatted about American sports culture and how it compares to England.
And then, less than 12 hours after it had begun, the journey was over for the two Joe's.
We said our farewell and plan to stay in touch throughout the Premier League season. Joe stepped out of the cab and I continued onwards to my hotel and then to Heathrow.
When Joe left the conversation in the cab turned to, you guessed it, soccer. The driver was a QPR fan. With a mutual dislike for Harry Redknapp, we got on like a house on fire.
The Premier League consumes Londoners and almost everyone in England can identify themselves through the national sport and the top league.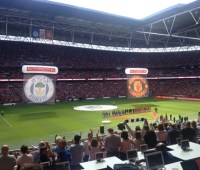 No matter where you travel throughout this great city there are billboards, historic stadiums popping out of everywhere and 24-hour news stations reminding you that the 2013-14 Premier League season is just 'round the corner.
Premier League soccer will take over the minds and lives of many citizens of London – and let's be real, the whole of England – for the next 10 months. Plue the two months after that, too.
Six of the PL's 20 teams hail from LDN. This town is the soccer mecca of the world.
 ***
In 36 hours I had circled much of London, and had about six hours sleep.
I'd interviewed one of the finest goalkeepers the USA has ever produced on the White Hart Lane turf, watched two elite games at two of soccer's most famous venues and delved deep into the science of analyzing the beautiful game with Opta.
And, above all that, I got to spend an entire day laughing, brainstorming and gaining wonderful knowledge from one of the best sports columnists in America, Joe Posnanski.
My first assignment with NBC Sports was a belter. With the Premier League season beginning in five days time, I can't wait to see what else unfolds between now and May 11. Bring it on.
Read in full, Joe Posnanski on the Premier League
Part I: Membership has its privileges
Part II: How to pick a Premier League club