When watching soccer on TV, have you ever sat there and wondered what the man behind the microphone really thinks?
Maybe this will go someway to helping with that.
In our new series "View from the Booth" NBC Sports' lead soccer announcer Arlo White will be joining us each week to talk about the hot topics in the beautiful game and preview the weekends upcoming Premier League action.
MORE: Game schedule  |  Match finder
In Week 1, the leading voice of soccer in the USA previews the 2013-14 Premier League season, with plenty still up in the air, summer transfers galore and loads of predictions to be made.
The grilling of Arlo (just kidding we're friends) begins. Ready, set… go.
With the kick off on NBC just a day away, how are you feeling about leading the NBC Sports coverage?
When I finally got the fixtures in my hand during the summer, I started to mentally plan out the season which was very exciting. I'm aware of the expectation that is placed on all of us on the team, not just me, but I'm confident that we can do a really good job.
Without giving too much away, what are some of the things fans can expect from the new coverage at NBC?
Expertise is the main thrust of the NBC coverage of the Premier League. Viewers will experience the intelligence and Soccer savvy of our panel. They're a hard working bunch. If you look at the top team of talent that's been assembled, they are excellent former players in Robbie Earle, Robbie Mustoe, Lee Dixon, Kyle Martino and Graeme Le Saux who are also superb broadcasters. They work as hard at their broadcasting craft as they did at their game in their playing days, and they're keen to be at the top of the profession in front of the camera.
Everything will be expertly held together by Rebecca Lowe who is a fantastic broadcaster. In terms of innovation, you will see a little bit of technology used which will enhance what we're doing. But we won't let it get in the way of the game, that's the most important thing. In terms of wall-to-wall coverage, fans are going to experience an unprecedented level, even with the highlight shows, Match of the Day 1 and Match of the Day 2 over the weekend too, so you can relive all the drama from the games that day.
Right, onto the soccer. What do you expect from this opening weekend of games? Usually it's quite a mixed bag but will all the big clubs get off to a winning start?
Looking at the opening set of fixtures I am absolutely delighted to be at Swansea against Manchester United.  I'm with Lee Dixon for that one. I'm not jumping on an anti-Manchester United bandwagon, but this is a turbulent time for the club. It's 1,036 league matches since someone other than Sir Alex Ferguson was in the dugout for United. November 1, 1986. David Moyes is an excellent manager, there's no doubt about it.
This is a new challenge and the Wayne Rooney situation has hung over the club for the entire summer, as has their inability to attract any major signings so far in the window. Although they still have some time left to conduct business.
Swansea City are a wonderful club and Michael Laudrup is a fantastic manager. Look for Michu to play behind new signing Wilfried Bony up front. I just think this is the best game of the weekend, and if any of the big four or big six are vulnerable on the first day of the season, then I think it's Manchester United.
They are the champions, they romped to the title last year. So equally it wouldn't surprise me if they won 3-0.
What do you make of all the transfer saga's this summer? Will Rooney, Suarez or Bale leave?
I'm delighted that the season is just about underway, and we can get on to the soccer. There is a certain level of intrigue in summer signings, we all enjoy the silly season aspect, the rumor, the counter-rumor, but we love soccer because we enjoy watching the games. There is an element of fatigue amongst some Premier League fans about these sagas dragging on for as long as they have. The American owners of Manchester United and Liverpool haven't backed down to player power from Wayne Rooney and Luis Suarez, I think the most likely of these three to leave immediately is Gareth Bale.It will be fascinating to sees what happens with these transfer stories and where these players will play their soccer this season. But I think there is a little touch of transfer speculation fatigue.
Lets make a few predictions, which team is your surprise package for the year?
If I'm going to throw a name out there, a team that I think is going to do better than expected this season is Cardiff City. I think Malky Mackay is a very good manager. Look at the shrewd business they have done. The new striker Cornelius has a lot of pressure on him, 6 foot 4, 20-years-old, to produce the goods. But I like the signing of Caulker and Medel, the "Pitbull" as he is known. These are good players who have the right character. They have a wonderful stadium, they've re-branded and have the fiery red shirts and the Welsh red dragons on their badge and they're going to be, I think inspired by their competition with Swansea City this year.
(More: Q&A with Arlo White, Lee Dixon and Rebecca Lowe)
Of the others, I think West Ham United with Stewart Downing and Andy Carroll firing on all cylinders with Matt Jarvis on the other flank might cause a bit of a stir. Southampton are very well managed, and have recruited well. I think they're going to be pretty decent this year. Let's look for Paolo Di Canio's Sunderland, lots of new signings and this is his team now. He is massively enthusiastic, hugely passionate but also he has his UEFA badges and people often disregard that. He's a deep thinker of the game and I think he will do well at Sunderland this year.
Which players will be challenging for the golden boot?
I think Van Persie is going to be the man to beat. I think Sergio Aguero will spring back to form this year, if you want two new challengers for the Golden Boot, the aforementioned Wilfred Bony. I've leaped into him during the preseason, particularly after his 2 goal start in the Europa League against Malmo. He just looks like he has the strength and finishing ability to really challenge at the top of the Premier League scoring charts. I think another one is Roberto Soldado at Spurs, if he gets the service, he doesn't need a great deal of space to threaten the goal.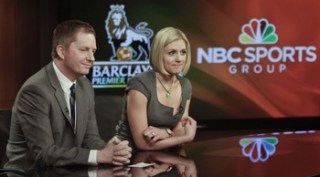 And who will win the title?
With the caveat that there is still over two weeks remaining in the transfer window, and an awful lot can change…. Part of me wants to jump all over the Chelsea bandwagon. They have the experience of John Terry, Frank Lampard, Petr Cech and Michael Essien back from loan all being around. But you look beneath them and there are an awful lot of young players. But excellent young players as well.
If anyone can get the best out of them, Jose Mourinho can. Because of the youthfulness of Chelsea, and I just think it's as close as 51-49 percent, this could be Manchester City's year under Pellegrini.  There are question marks over their defense, but hopefully they'll play some glorious attacking soccer. So, right here, as we stand on the eve of the season,  I think Manchester City are the team to beat.
Are you excited to see Jose Mourinho return to the Premier League?
Very much so. Speaking to other managers as well, Steve Bruce said "the fella is nothing short of a genius." Which I thought was interesting. Other managers enjoy his company and are inspired by him. He sprinkles some star dust over the league.  The noise levels on Sunday against Hull City will be off the charts. Chelsea fans have got what they wanted. They enjoyed Di Matteo, he was one of them. They were up in arms about Rafael Benitez, they just didn't want him to be in charge of their team. But Mourinho is the chosen one in their eyes.The "Special One" in his own eyes and maybe now he's professed to be the "Happy One." I think he is delighted to be back in London, he feels like he's back at home.
He's already started the mind games with the Rooney pursuit. Always going to be good for a quote and he's going to be gold dust in the Premier League this year.
With the intense pressure on plenty of new managers at big clubs in the PL, who will struggle to adapt?
I think David Moyes because of who he has to follow. I think Manchester United were given a pass by the other clubs last year. That won't happen this year. What you see in terms of managerial recruitment and player recruitment, especially at Chelsea and Manchester City, it is because United were able to cruise and just romp to the title last year. It's not going to happen this year. I'm a huge Moyes fan and there's a long-term project there. If United struggle early there will be no knee-jerk reaction from the club.
Roberto Martinez at Everton, with three center backs, a new system and I think Everton fans will warm to his style of play but he will have to get results. Pellegrini's soccer is going to be scintillating and I'm looking forward to that. I think the big one in terms of pressure early in the season and in terms of the size of the job is going to be Mark Hughes at Stoke. They have been kick and rush under Tony Pulis. They now have ideas now that they want to change their style of play that has suited them so well for many years. And it will be hard to get a team like that, full of big lads who are used to a certain way of playing, to change their culture completely into a passing team.
They've got a real American contingent there. So that will be interesting to watch but has Mark Hughes had enough time to instill his philosophy at Stoke City? Because a bad start will spell trouble for Stoke.
Finally, give us your top five players to watch. Not necessarily the biggest names out there but players who you think will have a big impact this season.
In no particular order, definitely Wilfried Bony for Swansea City. Paulinho at Spurs, any Brazilian player in the league is going to have a lot of pressure and scrutiny on them because they are desperate to make the World Cup in their home country. So alongside Sandro in midfield he's very powerful so looking forward to seeing him.
Jesus Navas at Manchester City. English soccer fans in the Premier League love a tricky winger, we love a winger in this country and he's going to thrill people at the Etihad. Roberto Soldado at Spurs, superb striker, excellent at volleys, super movement and awareness in the penalty area. Wilfried Zaha has played a prominent role in preseason, can he recreate that form he showed for Crystal Palace and force his way in to the England reckoning if they qualify for Brazil.