It wasn't the first goal of the 2013-2014 season – that honor belongs to Daniel Sturridge, who scored for Liverpool in the first match on Saturday – but Robin Van Persie gets on the scoreboard with the first goal of the Manchester United season.
Van Persie's goal went against the run of play, as Swansea were making last year's title winners look more than a bit foolish. It seemed the hosts were the ones more likely to take the lead before the halftime whistle, before the Swans lost the ball in midfield. Manchester United took advantage, racing up toward goal. The end result was a magnificent goal from Van Persie, with the Dutchman in full stretch. His acrobatic right-footed toe poke sailed right by Michel Vorm to put the visitors ahead 1-0.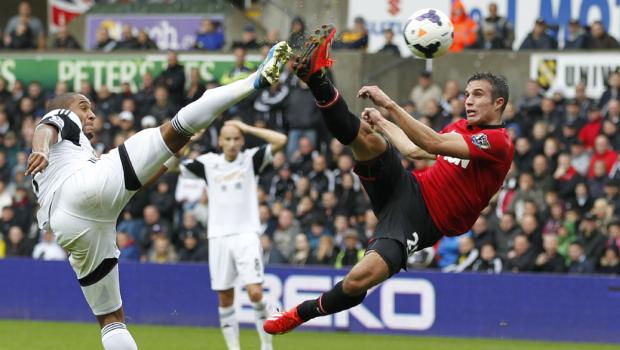 (Photo credit: Getty Images)
But as if that weren't enough to break Swansea's spirit, Danny Welbeck scored just two minutes later. Antonio Valencia jumped on a misheader from Van Persie, slotting over to Welbeck who neatly knocked it into the net. With just 36 minutes gone, United had a 2-0 lead, and David Moyes was breathing a huge sigh of relief.