Iker Casillas's expected return to Real Madrid's starting lineup was so highly anticipated, completely objective not-a-pro-Real-Madrid paper Marca printed a note of congratulations on Sunday morning.
"Welcome home, Iker," the headline read, speaking with a familiarity that makes last names inappropriate. "Tonight the goalkeeper returns to the Real Madrid starting line-up …"
Hours later, Diego López — the man who became Real Madrid's number one his January acquisition — was announced as Real Madrid's starter for today's match.
[MORE: Isco's late goal gives Real Madrid win over Betis.]
"Ancelotti's eagerness to re-establish the normal order seems to have given Iker the upper hand over Diego López – at least for the time being," Marca wrote this morning.
Oops. More from Marca:
Now it is up to Iker to cement his grip on a first-team place, conscious that Ancelotti – who is delighted to have two-world class shotstoppers on his hands – will not be afraid to pull the trigger and switch things over if he deems it necessary.

The Italian has been at pains to avoid his decision leaking out, even claiming that he had yet to determine which goalkeeper would play. "It's not an easy decision and it will come down to small details that are difficult to explain. They are both top professionals, are training well and did well in preseason", he stated.

Ancelotti knows that the issue is a delicate one and wants to handle it with care. He is fully aware that last season, the controversy over the number 1 spot caused a rift in the dressing room and amongst the fans – one he is desperate to heal.
After the match, March trotted out what's sure to be the company line. Not that Casillas's time at the Confederations Cup (and break afterward) aren't legitimate factors, but when Gianluigi Buffon is starting the Supercoppa Italiana the same day Casillas is said to be behind in training, you have to think these excuses are only as important a you want them to be.
Ancelotti had already warned on the eve of the match that he was not certain who the first choice goalkeeper should be and he finally opted for Lopez who completed a full pre-season, while Casillas had only spent the past twenty days with the side.
Casillas versus López was only one of the curiosities from Ancelotti's first match in charge. Some of these issues foreseeable, but now that an official game is in the book, we can start discussing some of the implications.
Free Cristiano! – Not that Cristiano Ronaldo was ever limited in what he could do under José Mourinho, but today he really seemed liberated to go wherever he thought the ball would end up. His average position made him the most left-leaning of Real's attacking midfielders, but he was only slightly left of Isco. At full time, Ronaldo had attempted 11 shots, four finding their way on goal. 
Ángel Di María is the one to make way – There aren't many who deny Di María's influence, but whereas some think he's merely a fine player, others see him as an absolute world-class talent. I tend to fall into the second group, because although the Argentine winger doesn't put up the eye-popping goal totals, he does everything else. Unfortunately, that everything else-ness was on the bench at kickoff, with Isco starting in his place. He eventually came on the 69th minute for MesütÖzil.
Alvaro Arbeloa loses his spot, too – He's been good enough to start at right back for Spain, but that never tempered criticism of Alvaro Arbeloa. It appears Carlo Ancelotti is the same camp as the detractors, because Daniel Carvajal, brought back to Spain this summer from Bayer Leverkusen, got the start.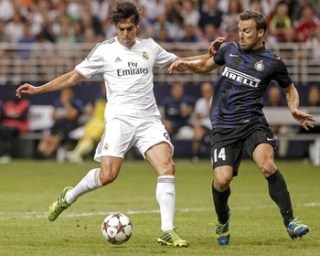 No sign of Kaká – A popular theory after Ancelotti's move from Paris Saint-Germain held Kaká would get a fresh start under the man who guided at AC Milan. Perhaps that has happenned, but today, although Real Madrid spent only four minutes in the lead, Kaká was an unused sub. Özil, Isco, and Luka Modric got starts. Casemiro and Di María were called off the bench. But there was no time for Kaká.
Similar system, different tactics – You don't want to read too much into the tactics, as they could have been tailored to Real Betis, but in a system that was similar to the one José Mourinho used before he left Real Madrid, it was interesting to see how much Los Blancos relied on their left side. Both goals were generated down that flank, as were most of the team's chances, with all of the team's attacking midfielders' average positions left side of striker Karim Benzema. Perhaps that's what a healthy Marcelo will do for you – implore you to go left. It was interesting, nonetheless.
But does/did that expose Ramos? –  Sergio Ramos was beaten badly on Real Betis's only goal. Cedric, a 21-year-old Congolese attacker brought in from Numancia, put Ramos on his heals in a one-on-one before going right (and, right around him), setting up an easy finish for Jorge Molina. Ramos is a talented defender capable of handling those situations better.
It's only one game, but for Real Madrid, it was a very interesting one.