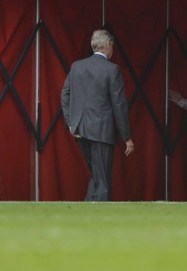 1. ARSENAL'S CONJURING MEMORIES OF 2011
After Arsenal lost 8-2 at Manchester United on Aug. 28, 2011, Arsène Wegner's hand was forced. To that point, the Gunners' boss had been cautions about throwing his recently received Cesc Fábregas/Samir Nasri money at new players, but with his team on one point through three rounds (having been held scoreless in their first two matches), Wenger had to do something. The subsequent 'panic buys' of Mikel Arteta and Per Mertesacker have worked out well for the club.
Perhaps that's the silver lining Arsenal fans can take out of Saturday's match, a bitter opener that saw the Gunners lose 3-1 at The Emirates to Aston Villa. Though there's a small number of Premier League clubs to whom Arsenal can justify losing at home, Villa is not one of them, let alone in the manner they did. Villa scored the match's last three goals, led for the final half hour, and put more shots on net over the 90 minutes.
If they're so inclined, Arsenal can hide behind excuses. Laurent Koscielny was sent off, leaving the team short-handed for 23 minutes, while two of Villa's goals can be attributed to penalty kicks. Those circumstances are unlikely to be replicated next week at Fulham. Still, Wenger would be better served to summon the urgency of Aug. 2011 and throw some money at the problem.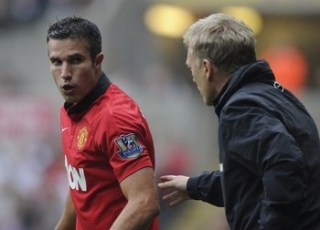 2. MANCHESTER UNITED SHOULD NOT HAVE BEEN OVERLOOKED
Barring a Monday night explosion from Manchester City (and with the Sky Blues hosting Newcastle, that could happen), the red side of Manchester will hold the top spot after the Premier League's opening round. Perhaps that's only appropriate, given the defending champions had been deprived of the spotlight in the build-up to the season. Though the Red Devils bring back a near-identical squad to the one that ran away with last year's Premier League, none of your PST writers have them finishing in the top two.
New manager David Moyes has said his club intends on buying, hinting the squad still has weaknesses. Most people point to the midfield as its main point of need, though United's had the same problems in midfield since Roy Keane left. They've still managed to claim silverware since – both at home and abroad.
Saturday was a bucket of cold water for those of us who had dwelt on that weakness. Swansea City — a team that opened last season with two lopsided wins; who drew United on their last visit to the Liberty Stadium — were torn apart by braces from Robin van Persie and Danny Welbeck. Although Swansea's poor play contributed to that results, United's firepower means they'll be capable of this kind of result.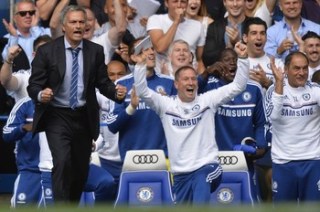 3. MOURINHO'S RETURN MORE 'DECENT' THAN 'SPECIAL'
If we learned anything about Chelsea from match one, it's that they had an easy start. Hull City, roundly picked to resume a place in the Championship, failed to provide a challenge. The Blues dominated for a half hour, built a 2-0 league, then clicked it into cruise. We'll have to wait for stiffer competition before passing judgment on the Blues.
There were hints, however, of what we could expect from Mourinho's second term, including in the way Chelsea cruised. Perhaps the team didn't pile on goals as Mourinho's Real Madrid might have, but team's return to a belligerent pragmatism that won two Premier League crowns will be welcome by some. Frank Lampard, despite having a penalty kick saved, lent credence to the notion his effectiveness will be prolonged by his reunion with Mourinho, while the Blues' three substitutes (André Schurrle, Romelu Lukaku, Marco van Ginkel) confirmed new blood will play a key part.
Hull's limited performance never gave Chelsea a chance to truly convince, but there were still things to learn from the Special One's return.
4. PROMOTED SIDES SHOW LITTLE LIFE IN TOP FLIGHT RETURNS
Hull weren't the only promoted side to disappoint. Crystal Palace, picked 20th by so many coming into the season, were able to keep the score close, their 1-0 loss to visiting Spurs disguising the fact Tottenham controlled the game. Cardiff City, winners of last year's Championship, fell 2-0 at West Ham United.
Underdogs in each match, it's no surprise all three Premier League newbies lost, yet their inability is still concerning. Out-shot by a combined 59-24 (13-6, shots on goal), the trio of neophytes seem to lack a Norwich City or Southampton – two promoted sides who managed to stay up last season. While recent signings from Cardiff and Hull may soon change their teams' outlooks (and it is far too early to condemn any of the new clubs), matchday one was a grim reminder of how far the new teams have to go.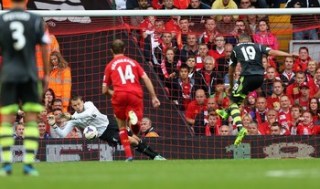 5. PENALTY KICK GRACE PRESERVES RESULTS
Liverpool's Saturday win over Stoke recalled the good and bad of last year: strong play; at times not reflected in the score; sometimes leaving matches to be stolen by lesser teams. Thanks to Simon Mignolet's 89th minute save on Jon Walter's penalty kick, Daniel Sturridge's first half opener held up, giving the Reds the 1-0 win they probably deserved.
But penalty kick grace was also evident at The Hawthorns, where West Brom nearly held on for a 0-0 with Southampton before Ricky Lambert converted in the 90th minute, giving a Saints team that had been the ever-so-slightly better side an ever-so-slightly better result. And in South London, Roberto Soldado's early second half conversion assured Spurs a result to mirror their control.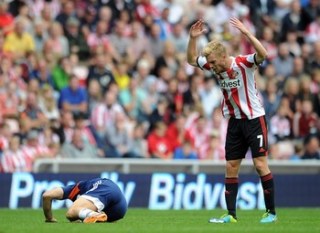 6. SUNDERLAND AS IMPRESSIVE ON GRASS AS ON PAPER
Going into Saturday's match, the on-paper Black Cats' didn't look too impressive, but given the club that survived last year's Premier League, it was easy to look at the additions of Jozy Altidore, Emmanuel Giaccherini, Cabral, Valentin Roberge, and Ondrej Celustka and see an improved team, overlooking the possibility they may still be inferior to their competition.
Saturday reinforced the notion this team's facing significant obstacles. Against another flawed side (Fulham), the Black Cats lost at the Stadium of Light , putting only three shots on goal. They did out-shoot Fulham 21-5 and held 57 percent of the ball, but given nine of those shots came after the 52nd minute (when the Pajtim Kasami's goal gave Fulham incentive to change their approach), Sunderland should lament the result rather than dwell on the circumstances.