LONDON — Andre Villas-Boas was understandably a happy man following Tottenham's narrow 1-0 win over Crystal Palace.
Spurs' manager was delighted with the three points in their first game of the 2013-14 season and praised his team for a disciplined display.
"Very happy. It was a good performance. It was a surprise against Palace because of the amount of new signings that they brought and the fact that we don't know them so well," Villas-Boas said. "I am extremely happy with the performance, we had plenty of chances to put the game to bed. We can only be pleased and overall we were the deserved winners."
Inevitably AVB was asked about the future of Gareth Bale but he declined to comment on a potential transfer, instead stating he is injured and will not be featuring for the foreseeable future.
"The player is injured and unavailable for selection as is not likely to start neither the Tbilisi [Europa League qualifier] or the Swansea game [next Sunday]."
But with Tottenham grinding out a win without their influential attacker, Villas-Boas' side were lacking a cutting edge with their Welsh wizard sidelined. Spurs deployed two holding midfielders against Palace as Paulinho and Mousa Dembele battled it out with Mile Jedinak in the engine room.
(MORE: Crystal Palace 0 – Tottenham 1, Soldado's penalty seals the win for Spurs)
Villas-Boas accepted that Palace made Spurs' job extremely difficult.
"I think Palace set up really, really well. Because they put three players behind the striker very, very narrow. Plus two more in midfield so it made it extremely difficult for us to play through the middle. We were outnumbered in the middle."
Belgian international Dembele, 26, also believed Spurs did as well as they could on a hot and sticky day in South London.
"It was not easy," Dembele said. "The pitch was very dry, so it took a bit out of our game because we want to play fast and everything. In the end we had some good chances. They are a good side but we should have been ahead by more."
Dembele's fellow Belgian international Nacer Chadli carved out a few chances and did well out on the left. Leaving Spurs fans optimistic that they're covered even if Bale does leave. And Icelandic attacker Gylfi Sigurdsson was sharp and creative in the No. 10 role.
Sigurdsson was happy with his performance and to return to his favored position behind the front man.
"It was nice to play there again and I enjoy playing there. Hopefully I will stay there behind the striker. I think that is probably what I prefer, but I will play wherever the manager wants to play me."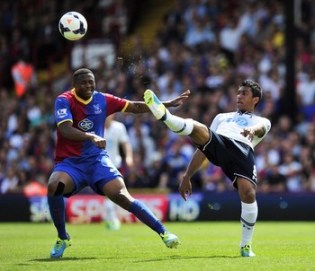 Capping off a whole host of new faces in Spurs' midfield, Brazilian midfielder Paulinho looked bright and sharp in the tackle. Palace's midfield was marshaled by Jedinak who was the pick of their players and made the Spurs midfield work for every single ball.
AVB was pleased with his new midfield terrier. Although Tottenham's Portuguese boss wasn't too pleased about Paulinho playing the full 90 minutes for Brazil in midweek, as the Samba Boys lost to Switzerland.
"I don't understand why he was the only player involved for Brazil for 90 minutes against Switzerland. And he probably should have been taken off a little bit earlier," Villas-Boas continued. "We didn't speak to Scolari [Brazilian national team manager] and we didn't get involved. I was mentioning it because he hasn't had a 90 minutes for a while. So it was a great, great effort for someone who hasn't done that in preseason."
With Paulinho, Dembele and new signing Etienne Capoue — who came on as a second half substitute — shoring up the midfield, Spurs looked solid and dependable as Palace cranked up the heat late on. They certainly looked less fragile than they had last season, as a late onslaught was thwarted with Spurs claiming the shutout.
Last year Spurs conceded easily at times, but they had Bale to rescue them late in games. This season they might not be able to rely on his clutch goal scoring exploits, so a solid midfield core is a necessity. Will it be a different Tottenham team this season?
"I don't think so," Villas-Boas said. "Not in terms of the system because we will keep on what we did last season. Between the 4-2-3-1, the 4-3-3 and the 4-4-2. These are the systems that we will continue to work on, it gives us flexibility."
On this showing, Spurs' new midfield is more then capable of providing flexibility and solidity.
It will just take time.