Just when Chivas USA makes a little progress, takes a gentle stride forward in signing a respected leader in former U.S. captain Carlos Bocanegra, along comes the club's wheels off owner to remind everyone of how far this thing is from genuine stability.
Because if the owner, the man at the very tip-top of the organization, cannot be trusted to conduct a short interview without doing something to embarrass the club, well, what chance does Chivas USA really have?
Remember, just a month ago Vergara promised that Chivas USA "will become a protagonist in MLS and a champion like Chivas in Mexico." Yes, he said that. He predicted championship stuff from a team that has still never won an MLS playoff series.
By the way, his "Chivas in Mexico" is currently 15th among 18 Liga MX teams. So there's that.
Vergara said all kinds of wacky stuff in that interview.
There is also the unpleasant business of the ongoing lawsuits, much of which is tied into Vergara's actions. Yes, "lawsuits," plural. You may have missed it, but there is more than one now.
Well, either Vergara was having a bad day – or perhaps he is learning his lessons, figuring to bail out before he says something else that will get him in trouble. Because, well, this ..
.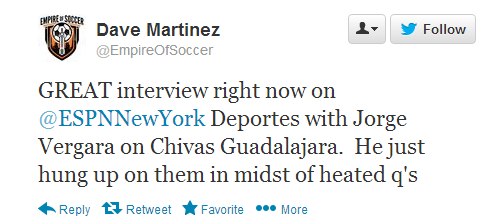 .
By the way, I talked to an MLS official during All-Star activities recently in Kansas City about all this. I asked straight out, what are the league's options with Vergara and Chivas USA, where the situation is a drag on the rest of the league (my words, not his). He told me, "We just keep working with them to make things better. We don't have any other options."