The degree to which today's result is a true setback depends on how much you deny the inherent nature of this spot. At any point at the top-level, one team's always capable of shutting down another, provided they embrace one cynical yet undeniable truth: It's really, really hard to score a goal when 11 men are committed to denying you.
When you get down to it, that's the thing stereotyped mainstream American sport fan hates most about soccer. It's not the fact you can't use your hands (that's just easier to articulate). To a certain extent, it's the low scoring, but really, it's the fact that such an asymmetrical approach can be rewarded.
And it's true. At times in soccer, you only have to play part of the game to get a result (and if the game didn't have draws, those approaches wouldn't be rewarded).
Take today's match in Monaco. Visiting Toulouse, playing in front of an empty stadium (the fallout from a pitch invasion last year), les Pitcheons didn't even put a shot on goal. That they only tried three times speaks to their approach. It was defense first for Alain Casanova's team, an approach that paid off with a 0-0 result at Stade Louis II.
Monaco came close a number of times in the first half, the game serving as a simultaneous mirror to Borussia Dortmund's 2:30 p.m. ET kickoff against Werder Bremen. But whereas BVB eventually broke through, Monaco's closest chance came near full time, when defensive midfielder Jeremy Toulalan rattled the crossbar from 24 yards out.
Often these FourFourTwo StatsZone shots can be deceptive, but tonight, Monaco's draw with Toulouse truly did look something like: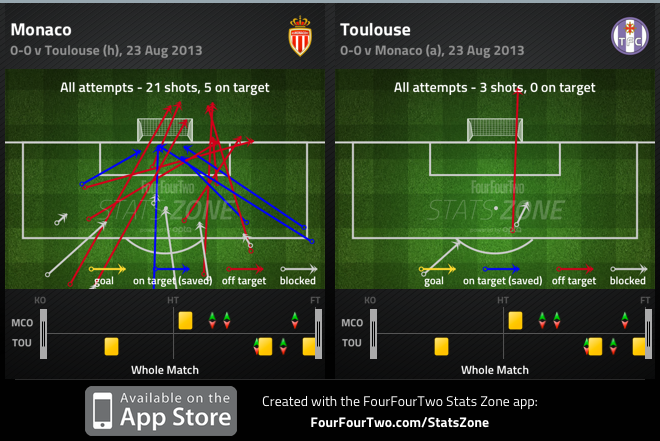 Monaco's going to have to get used to this, though. They may be in their first season back at the top flight, but when you spend as much as they have, when you acquire the likes to Radamel Falcao, Toulalan, James Rodríguez and Joao Moutinho, people are going to be deferential – especially after you've won your first two league games by a combined score of 6-1.
At the same time, it's nothing to worry about. If Monaco was dominating play but not converting control into chance, Claudio Ranieri would have reason for concern. Instead, it took some sprawling efforts from Ali Ahamada in Friday's first half to keep Toulouse in the game. And in the early execution and organization Monaco's shown with their revamped squad, Ranieri's team seems ahead of schedule.
Maybe Lyon will have something to say about the prospect of a French Big Two. Perhaps next week, Monaco will be put in their place at Marseille. For now, though, Monaco's doing their part to create Europe's latest duopoly.